There are also some clear differences between the Windows and Samba vulnerabilities. Unlike Windows, which has SMB on and open by default, those capabilities must be manually turned on in virtually all Linux distributions. Another key difference is the absence of any equivalent to "DoublePulsar," the advanced weaponized backdoor developed by the National Security Agency and leaked by a mysterious group calling itself the Shadow Brokers. DoublePulsar made it easy for WCry to capitalize on the Windows flaw.
Still, risks exist, and there are other potential attack scenarios that wouldn't require sharing to be exposed on the Internet. A malicious spam message that successfully compromised a single computer on a corporate network, for instance, could use the Samba flaw to spread virally to other computers. Given the ease of exploiting the vulnerability, it could quickly infect large numbers of machines. Researchers said the vulnerability could also open home networks with network attached storage devices to attacks as well.
HD Moore, who is vice president of research and development at Atredis Partners, said he expected the exploit to be available in the next 24 hours for the Metasploit framework used by security professionals and hackers. He posted the following images showing successful exploits against Samba on a computer running Ubuntu and NAS device made by Synology.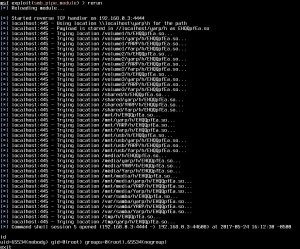 People who use Samba should check with their operating system or device provider to see if a fix is available. Those who are unable to patch immediately can work around the vulnerability by adding the line
nt pipe support = no
to their Samba configuration file and restart the network's SMB daemon. The change will prevent clients from fully accessing some network computers and may disable some expected functions for connected Windows machines.
Given the ease and reliability of exploits, this hole is worth plugging as soon as possible. It's likely only a matter of time until attackers begin actively targeting it.
Source:https://arstechnica.com/security/2017/05/a-wormable-code-execution-bug-has-lurked-in-samba-for-7-years-patch-now/