The maker of USB Killer is here with the USB Killer version 2.0 – a more advanced version of the computer frying USB drive. The Killer USB v2.0 is more refined as it now dumps the -220V directly onto the USB signal wires.
Earlier this year, I told you about the a proof-of-concept computer-burning USB Killer drive, which was designed by a Russian researcher known as the "Dark Purple" in the online world. He, along with his colleagues from his workplace, created a USB drive that could destroy a laptop in no time.
Now, Deep Purple has decided to develop the USB Killer Version 2.0 – a new version of his computer-frying USB Killer pen drive. As you would expect, USB Killer version 2.0 is more powerful than its predecessor and is capable of doing a lot more damage.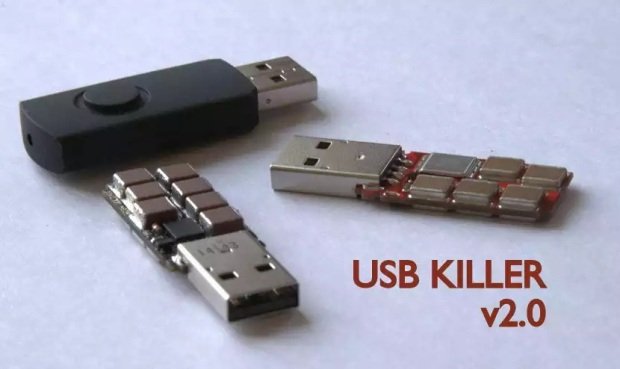 The researcher used a small board, a DC/DC converter, a FET, and a few caps to create the first USB Killer pen drive. When that USB Killer was plugged into the PC, the converted charged the caps to -110V and then dumped that voltage into the USB signal wires. This process was repeated till the computer or the port fried.
The USB Killer Version 2.0 is more refined as it now dumps the -220V directly onto the USB signal wires.
The main feature of the new version of the device is increased twice, "output" voltage, it is now 220 (strictly speaking, minus 220). Also in the new version the efforts were aimed at making the device even more compact, as in the first version had slightly modifying the body, so that everything fits," describes Dark Purple.
In the video below, Dark Purple shows how he destroyed his new Thinkpad X60 while testing the USB Killer 2.0.
After frying the laptop, Deep Purple wrote, "Do not worry about the laptop, the new motherboard is on the way – and the laptop will live again."
It should be noted that it's not a brand new concept and USB drive are used as a valid weapon to compromise the system in air-gapped network.
So, take a moment before you insert a newly-found USB drive in your laptop as it could KILL your laptop.
Source:https://fossbytes.com/

Working as a cyber security solutions architect, Alisa focuses on application and network security. Before joining us she held a cyber security researcher positions within a variety of cyber security start-ups. She also experience in different industry domains like finance, healthcare and consumer products.