We're your servants, says general counsel unconvincingly
After spending months pressuring tech companies to add backdoors into their encryption software, the FBI says it has given up on the idea.
Speaking at a conference in Boston on Wednesday, the bureau's general counsel James Baker even used the term that has been repeatedly used to undermine the FBI's argument: magical thinking.
"It's tempting to try to engage in magical thinking and hope that the amazing technology sector we have in the United States can come up with some solution," he told attendees at the Advanced Cyber Security Center (ACSC) annual conference.
"Maybe that's just a bridge too far. Maybe that is scientifically and mathematically not possible."
The response is a world away from comments made by FBI director James Comey a year ago. In October 2014, Comey decried the decision by Apple and Google to turn on file system encryption as a default on devices following revelations of mass surveillance, complaining that it was impinging the ability of cops to do their jobs.
Apple also turned on an implementation of end-to-end encryption in its messaging software, as has Facebook-owned WhatsApp, meaning the Feds cannot easily decrypt intercepted chatter.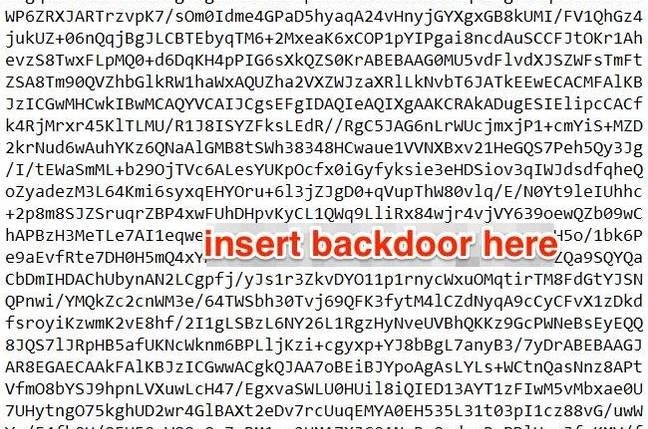 "We aren't seeking a backdoor approach," Comey told the Brookings Institute. "We want to use the front door, with clarity and transparency, and with clear guidance provided by law. We are completely comfortable with court orders and legal process – front doors that provide the evidence and information we need to investigate crime and prevent terrorist attacks."
Terminal-ology
The term "magical thinking" has comes to represent the problem with introducing so-called "split-key encryption" where law enforcement would be given a skeleton key to decrypt information. The magical part is where it is assumed that only law enforcement would ever discover and use the key, and that such a design does not completely hobble the strength of the cryptography.
As a sign that the obvious flaw in this approach has picked up advocates within the US government came when FTC Commissioner Julie Brill referenced "magical thinking" when she told a privacy conference last week why she did not support the idea of an encryption backdoor.
Few expected to hear the words from an FBI official, however.
Last year, Comey complained that criminals were "going dark" – and that phrase formed the title of the session this week in Boston: Going Dark: The Balance Between Encryption, Privacy, and Public Safety.
The FBI is still unhappy about the fact it can't easily access strongly encrypted data, with general counsel Baker saying it does make it harder for law enforcement to carry out surveillance.
And he complained that even when the FBI does get a warrant it can't get access to communications – a reference to the ongoing court case with Apple where the computer company has said it is simply unable to provide the unencrypted data from a specific individual.
However in a line that was used repeatedly at the conference, Baker noted that the FBI was there to serve the American people. "We are your servants," he said. "We will do what you want us to do."
Continuing that line of thinking, he said: "At the most fundamental level, it is about the relationship between the people and government. When it comes to surveillance, what do you want us to do and what risks are you willing to take on?"
Last month, FBI director Comey confirmed what a leaked Obama administration document had implied– that the administration would not seek legislative powers from Congress to force tech companies to install a backdoor. But he did say that the FBI would work privately with tech companies to reach agreement on a similar system. Baker's comments this week would appear to show that the FBI has given up on that plan, too.
Source:https://www.theregister.co.uk/

Working as a cyber security solutions architect, Alisa focuses on application and network security. Before joining us she held a cyber security researcher positions within a variety of cyber security start-ups. She also experience in different industry domains like finance, healthcare and consumer products.