Daesh's cyber squad hacks over 54,000 Twitter accounts
In the current era, there is no such thing that we have come across that can be termed unhackable. This makes things very dangerous indeed and in the pursuit of revenge, individuals can resort to extremes. On this occasion, a group called Cyber Caliphate, which was led by Junaid Hussain from Birmingham, and of ISIS origin, urged its followers to take control of the accounts to spread the organization's propaganda. According to British media, majority of the victims were residing in Saudi Arabia, with a few of them possessing British nationality.
According to experts' estimations, more than 54,000 Twitter accounts, which also included their passwords, were posted online last Sunday. Another shocking revelation was that group of hackers were also able to post hacked personal details, which included mobile phone numbers, of the heads of the CIA, the FBI and America's National Security Agency.
Hussain, who has now been killed as a result of a US drone strike, has his legacy living on through thousands of individuals. That's not all, shortly after his demise, Cyber Caliphate briefly took control of a Pentagon-owned Twitter account during the month of January, but has kept a low online profile in order to prevent being captured by the authorities.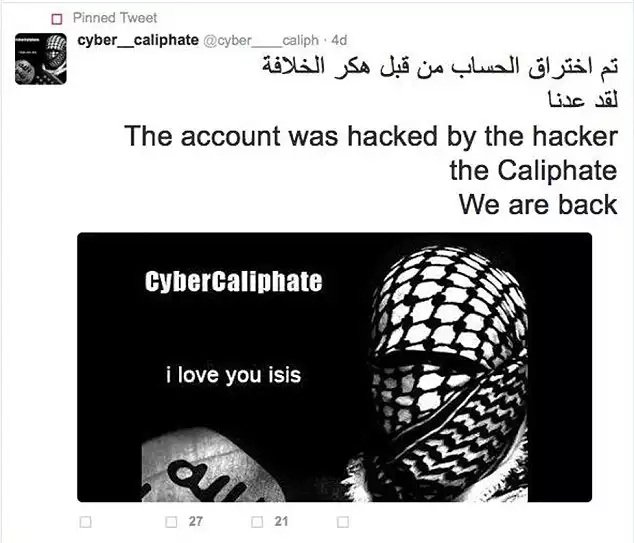 However, after a period of being inactive, the group is back and it has returned with a bang. According to Cyber security expert Tony McDowell, he has stated that terrorist groups gathering sensitive data this way has become extremely alarming because it shows that these groups are not your average individuals who just resort to violence and guerilla warfare. They also possess a sophisticated understanding of cyber warfare, and in the process, they could gain access to sensitive military secrets of different countries this way.
While it is advised to high ranking officers that they adopt the use of a strong password in order to safeguard the data present in their accounts, a more resourceful approach would be to commence a joint operation spearheaded by different intelligence agencies of countries in order to bring Cyber Caliphate and other hacking groups to justice.
Source:https://www.techworm.net/

Working as a cyber security solutions architect, Alisa focuses on application and network security. Before joining us she held a cyber security researcher positions within a variety of cyber security start-ups. She also experience in different industry domains like finance, healthcare and consumer products.