Both Amazon and Apple are in the same boat.GNU.org has a category on its website named "Philosophy of the GNU Project" where the Microsoft software is described as malware, along with Apple and Amazon.
It's not all that clear why these statements exist on the GNU.org website, even if it's powered by FSF (Free Software Foundation). Moreover, all of this information is listed under Philosophy of the GNU Project, making it even more out of place.
The Free Software Foundation is pretty adamant about the software that it helps build or about what other people are doing. The don't hold anything back, and they don't mince words. This is why the statements about Microsoft products, and Apple to a lesser degree, are pretty strong. The only problem is that they only point to disparate links in the mass media, as proof.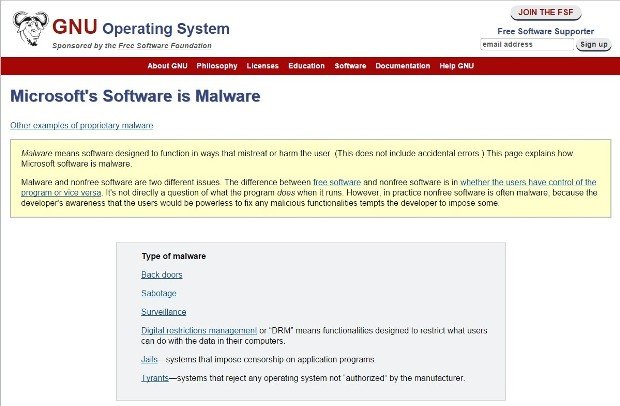 What exactly constitutes malware for FSF
To be fair, the definition of malware is not something official, but more like something that people convene about. In this case, you can argue that the FSF definition of malware has been stretched to fit their purpose.
FSF says that "Malware means software designed to function in ways that mistreat or harm the user." It makes no mention of the fact that some users might already know what they are getting into.
FPS says that Windows systems have a hidden backdoor and that in Windows 10 that backdoor is used to install updates automatically, Windows 8 can remotely deactivate programs, Microsoft continues to nag users to install Windows 10, the company informs NSA first about security issues before addressing them, and Microsoft cut off security fixes for Windows XP, with the exception of a few paying companies.
As you can imagine, they also talked about the default setting in Windows 10 that allows Microsoft to "snoop" around, the Windows 10 full disk encryption gives Microsoft a key, and Microsoft SkyDrive allows the NSA to directly examine users' data. There are a bunch of other reasons if you want to check them further.
Apple and Amazon are also singled out on the GNU.org website, but their "achievements" pale in comparison with Microsoft's.
Source:https://news.softpedia.com/

Working as a cyber security solutions architect, Alisa focuses on application and network security. Before joining us she held a cyber security researcher positions within a variety of cyber security start-ups. She also experience in different industry domains like finance, healthcare and consumer products.