Group also goes after the website of a whale hunting company
Online activists associated with Anonymous took down five websites belonging to the Icelandic government and two other related sites, as part of their campaign to protest against any type of regulated whale hunting.
According to local Icelandic website Grapevine.is, the attack took place late Friday, November 27, and lasted 13 hours, until mid-day Saturday, when the sites returned online.
Five government websites were taken down
The five targeted government websites belonged to the Ministry of the Environment and Natural Resources, the Ministry of Foreign Affairs, the Ministry of the Interior, Iceland's Prime Minister, and the government's main portal.
Additionally, the site belonging to HB Grandi, an Icelandic whale fishing company, was also hit, along with the website of the Japanese Whaling Association. Check tweets below for exact URLs.
The hacktivists announced their attacks in advance with a video uploaded on YouTube two days prior (view it at the end of the article).
"Iceland's escalating whale hunts are clear and willful abuses of the IWC's [International Whaling Commission] moratorium, as well as the ban on international commercial trade in whale products," says Anonymous, accusing Iceland of being in cahoots with Japan.
"Brothers and sisters of anonymous. We ask that you stand alongside us in targeting Iceland," continues the group asking for public support for their cause.
Attacks are part of the #OpWhales and #OpKillingBay campaigns
This most recent wave of DDoS attacks is part of the group's #OpWhales and#OpKillingBay campaigns, during which the group started taking actions against governments and companies that kill whales and dolphins.
Earlier this year, Anonymous divisions also hit the websites of Japan's two of the busiest airports in October, and the Taiji's municipality website in September. Taiji became famous thanks to "The Cove" documentary, being the place where dolphins were herded into a small bay and gruesomely slaughtered in mass by Japanese fishermen.
Anonymous hackers also set up a special Twitter account and a website (Warning: animal cruelty images on this link) for their most recent #OpWhales campaign. They also uploaded to GhostBin a list of websites they plan to target in the future.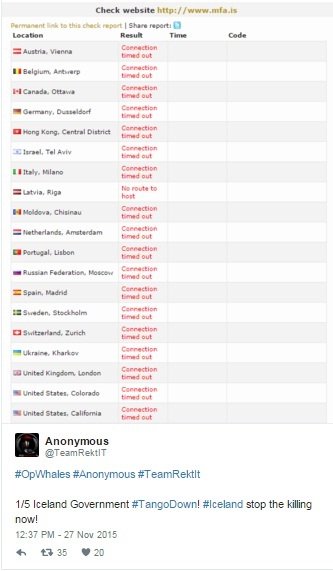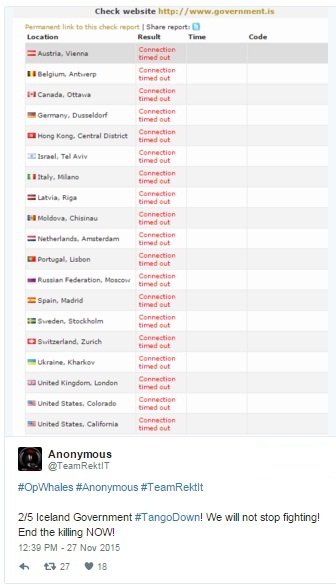 Source:https://news.softpedia.com/

Working as a cyber security solutions architect, Alisa focuses on application and network security. Before joining us she held a cyber security researcher positions within a variety of cyber security start-ups. She also experience in different industry domains like finance, healthcare and consumer products.