Hacking group keeps its promise, downs Steam for Christmas.The SkidNP hacking group kept their promise and started attacking Steam servers on Christmas, after a spat with Phantom Squad earlier this week when the two groups had a "territory fight," defacing each others websites and calling each other "skids" (script kiddies, derogatory hacker term).
It now seems that the two groups made up, and they decided that Phantom Squad should focus on the Xbox Live and PlayStation Network infrastructure while SkidNP would focus only on Minecraft and Steam servers, as one of the group's members, Obstructable, revealed in an interview.
After Phantom Squad started their attacks last night on EA servers and then moved on to PSN, without managing to down it, today, SkidNP has launched its own series of attacks on the Steam network.
SkidNP is using a botnet (a network of malware-infected computers) to launch their attack, which makes blocking it extremely hard, even for services like CloudFlare.
At the time of this article, the Steam servers are down for about an hour, and gamers are already starting to panic, both on Twitter and on Reddit.
The Steam Store is completely down while the Steam client is having difficulties connecting. There are short periods of time when the service comes up for air, but most of the times, everything is unresponsive.
Stay tuned for more updates!
UPDATE 1: Steam continues to be hammered by the DDoS attacks, and now users arereporting that they're logging in as other users. People that made purchases are now realizing that they've bought games for other people, while on another account.
UPDATE 2: After they log in, users are now reporting seeing Steam pages in other languages.
UPDATE 3: SteamDB, a site that writes about Steam and Valve, issued a clarification on the issue with the Steam Store: "Valve is having caching issues allowing users to view things such as account information of other users. Don't use Store for now." Cache errors appear due to high traffic loads. It is unknown if this was caused by the Christmas sales or the DDoS attack.
UPDATE 4: Phantom Squad seems to have joined the attacks on the Steam network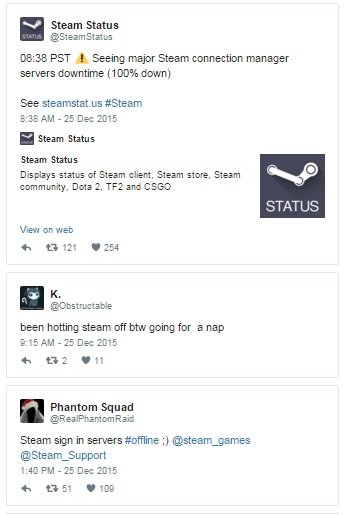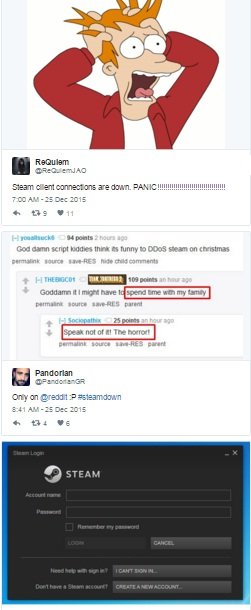 Source:https://news.softpedia.com/

Working as a cyber security solutions architect, Alisa focuses on application and network security. Before joining us she held a cyber security researcher positions within a variety of cyber security start-ups. She also experience in different industry domains like finance, healthcare and consumer products.