One of the "teenage hackers" who broke into the CIA director's AOL email account last year hasn't given up targeting government intelligence officials. His latest victim is the Director of National Intelligence James Clapper, Motherboard has learned.
A group of hackers calling themselves "Crackas With Attitude" or CWA made headlines in October, hacking into CIA Director John Brennan's email account and apparentlygetting access to several online tools and portals used by US law enforcement agencies.The hackers' exploits prompted the FBI to issue an alert warning government officials of their attacks.
One of the group's hackers, who's known as "Cracka," contacted me on Monday, claiming to have broken into a series of accounts connected to Clapper, including his home telephone and internet, his personal email, and his wife's Yahoo email. While in control of Clapper's Verizon FiOS account, Cracka claimed to have changed the settings so that every call to his house number would get forwarded to the Free Palestine Movement. When they gained notoriety last year, Cracka and CWA claimed their actions were all in support of the Palestine cause.
"I'm pretty sure they don't even know they've been hacked," Cracka told me in an online chat.
But Brian Hale, a spokesperson for the Office of the Director of National Intelligence, confirmed the hack to Motherboard on Tuesday.
"We're aware of the matter and we reported it to the appropriate authorities," Hale said, declining to answer any other questions on the record. (The FBI declined to comment.)
Cracka, or whoever is pretending to be him, taunted authorities on Twitter (the hacker used a new Twitter account, not the same one he used at the time of the Brennan hack. But the hacker also is in control of a chat app account who's been using to communicate with me since last October).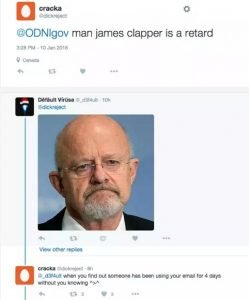 Cracka provided me with what he claimed to be Clapper's home number. When I called it on Monday evening, I got an answer from Paul Larudee, the co-founder of the Free Palestine Movement. Larudee told me that he had been getting calls for Clapper for the last hour, after an anonymous caller told him that he had set Clapper's number to forward calls to him. Larudee said that one of the callers said he was sitting in Clapper's house next to his wife.
According to public records, the phone number does belong to James Clapper's household. Cracka also provided another number, a cellphone, which he said belonged to either Clapper or Clapper's wife, Susan. When I called, a woman picked up and I asked if this was Susan Clapper. The woman responded that Susan wasn't there, but that she'd tell her to call me back. But nobody ever did.
Cracka also claimed to have gotten into Susan's Yahoo email account, as well as Clapper's email account. He provided a series of screenshots to prove he had control of their Verizon FiOS account, as well as Susan's Yahoo account. Motherboard couldn't independently verify the authenticity of the screenshots.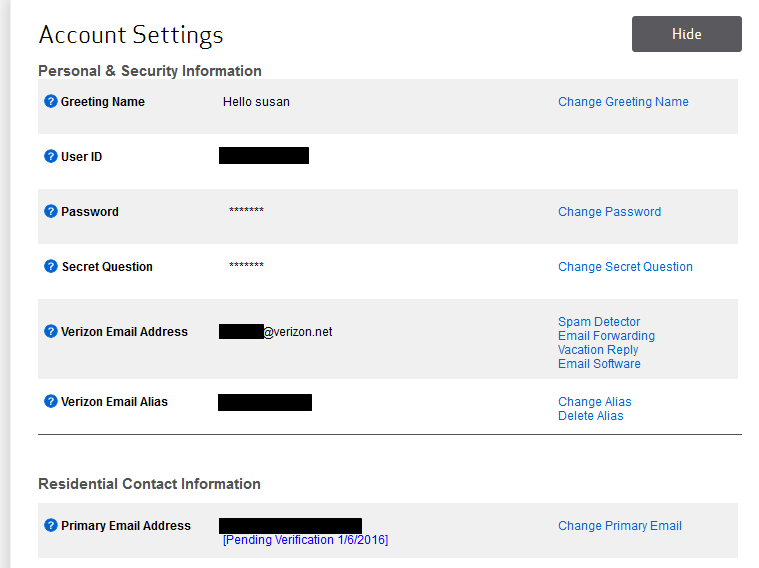 The hacker also sent me a list of call logs to Clapper's home number. In the log, there was a number listed as belonging to Vonna Heaton, an executive at Ball Aerospace and a former senior executive at the National Geospatial-Intelligence Agency. When I called that number, the woman who picked up identified as Vonna Heaton. When I told her who I was, she declined to answer any questions.
"A journalist? Oh my gosh" she said, laughing uncomfortably. "I have somebody on the line, I'm sorry, I have no insight into that. But that's really unfortunate, have a great day."
"I just wanted the gov to know people aren't fucking around, people know what they're doing and people don't agree #FreePalestine."
Michael Adams, an information security expert who served more than two decades in the US Special Operations Command, said that this looks "more of a social engineering hack than a real hack," but also added that "every serious hack starts with social engineering."
Adams also said that it's "insane" that Clapper doesn't do more to hide his home address and phone number (both can be found with a Google search).
"If I'm the Director of National Intelligence of the United States of America nobody is going to know where the fuck I live, nobody is going to have my goddamn phone number or address," Adams told me in a phone interview.
On Tuesday, Cracka asked me not to name him in the article, saying he "doesn't like the attention."
"You Asked why I did it," he added. "I just wanted the gov to know people aren't fucking around, people know what they're doing and people don't agree #FreePalestine."
Source:https://motherboard.vice.com/

Working as a cyber security solutions architect, Alisa focuses on application and network security. Before joining us she held a cyber security researcher positions within a variety of cyber security start-ups. She also experience in different industry domains like finance, healthcare and consumer products.