Pi will still run 32-bit operating systems, but it'll be 50% faster. The third major version of the Raspberry Pi will go on sale Monday, with the $35/£30 credit card-sized Raspberry Pi 3 Model B now sporting a 64-bit processor and embedded Wi-Fi and Bluetooth.
In previous versions, the Pi needed USB adapters to get Wi-Fi and Bluetooth connectivity. Raspberry Pi 3 supports 802.11n Wi-Fi (2.4GHz only) and Bluetooth 4.0 without an adapter, freeing up its four USB ports for other purposes.
The computer will be on sale Monday from "all the usual resellers," the Raspberry Pi Foundation told us. That would likely include Element14, Think Allied, and RS Components.
While the Raspberry Pi 2 released a year ago used a Broadcom system-on-chip with a 32-bit, 900MHz quad-core ARM Cortex A7, the Raspberry Pi 3 upgrades to a 64-bit ARM Cortex A53 that's also quad-core and is clocked at 1.2GHz.
The device is expected to be about 50 percent faster than the previous version due to the increase in clock speeds and architectural improvements, Raspberry Pi creator Eben Upton told Ars.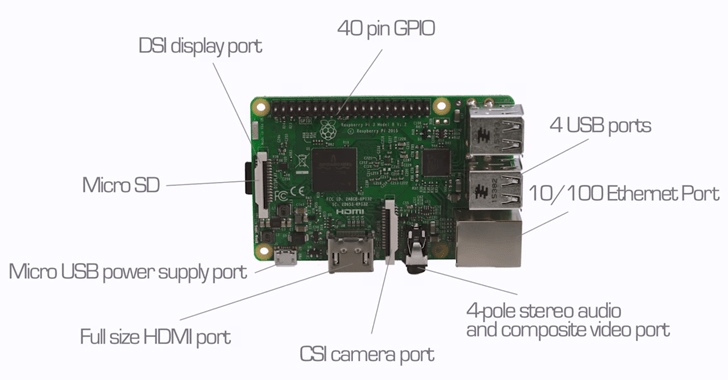 "The main reason we're excited about Cortex A53 is it's a better 32-bit processor [than A7]. You can run in 32-bit mode," Upton said. 64-bit ARM processors also support a new ARMv8 instruction set that's capable of speeding up both 32-bit and 64-bit operations.
While the 64-bit capability means that 64-bit operating systems could come to the Pi, there are no specific plans yet, Upton said. "We're going to wait until someone can demonstrate a concrete benefit to going to 64-bit before we make that our standard," he said.
The new Pi has 1GB of RAM, the same amount as last year. For RAM usage, 64-bit is only necessary if you have more than 4GB.
Pi 3 also has a graphics upgrade, using Broadcom's 400MHz VideoCore IV, rather than last year's 250MHz version. The new hardware will support 1080p video at 60fps using the H.264 format, up from 30fps. The new Pi also gains H.265 support for the first time but is limited to 1080p at 30fps.
Ethernet connectivity remains at 100Mbps. The Pi 3 looks nearly identical to the Pi 2, with the ports and pins all in the same places.
Upgrading the hardware while keeping the price the same was accomplished by "optimizing the unsexy bits of the design," and making manufacturing and packaging more efficient, Upton said.
Upton said the Pi 3's added computing power makes it "more credible as a PC replacement" and that the new wireless capabilities will also make it a better "gateway hub device for connecting lower-cost Wi-Fi and Bluetooth-enabled sensors."
The Pi 3's maximum possible Wi-Fi speed is 150Mbps, but it'll generally hit only about 20 to 40Mbps, Upton said.
The Raspberry Pi has been around since February 29, 2012 and sold about 8 million devices. While the choice of operating systems was quite limited in the earliest hardware, the Pi now supports awider range including Ubuntu MATE and even a version of Windows 10.
Besides the flagship device, there's also a Raspberry Pi Compute Module, an even smaller board designed for industrial applications. The Raspberry Pi Foundation has a new version of the Compute Module in the works to go on sale in the second quarter. The new Compute Module will not include wireless connectivity, but it will have the same 1.2GHz Cortex A53 processor and 1GB of memory as the Raspberry Pi 3.
Source:https://arstechnica.com/

Working as a cyber security solutions architect, Alisa focuses on application and network security. Before joining us she held a cyber security researcher positions within a variety of cyber security start-ups. She also experience in different industry domains like finance, healthcare and consumer products.