Man arrested after Mossack Fonseca filed official complaint. An IT manager for Panamanian law firm Mossack Fonseca was arrested yesterday in Geneva, Switzerland, on suspicion of data theft, Swiss newspaper Le Temps reported.
Authorities did not reveal the employee's name, who works for Mossack Fonseca's Swiss branch, but said they opened an investigation after the law firm filed a complaint.
Lawyers for Mossack Fonseca said they know the employee had full access to their systems and that data was downloaded through his computer. Authorities also seized his equipment for further investigations.
Lawyers representing the arrested employee said their client refuted all theft charges.
Only two months passed since the Panama Papers breach
At the start of April, German newspaper Süddeutsche Zeitung, together with the International Consortium of Investigative Journalists, revealed what they called The Panama Papers, a collection of files the newspaper received from an anonymous source.
The data contained document scans since the company launched in the 70s, along with email and other electronic files. The leak exposed a world-spanning collection of off-shore organizations that allowed multiple companies and public figures to dodge local taxes.
While off-shore organizations are not illegal, the leaked files led to many governments starting financial investigations of many of the firm's clients. Mossack Fonseca fought back by suing Süddeutsche Zeitung and the International Consortium of Investigative Journalists.
German reporter says they got the wrong man
Bastian Obermayer, the Süddeutsche Zeitung reporter who received the files and was in direct contact with the Panama Papers source, said on Twitter: "According to our information the #mossackfonseca IT person arrested in Geneva is not #panamapapers source 'John Doe'"
While Obermayer may be right in his claim, this doesn't exclude the theory that two or more individuals collaborated on the data breach. One could have stolen the files, while the other talked to the reporter.
Furthermore, the IT manager's Swiss citizenship might explain why the original source, "John Doe" chose to leak the files via a small German-speaking newspaper in the neighboring country, instead of going after a bigger media source.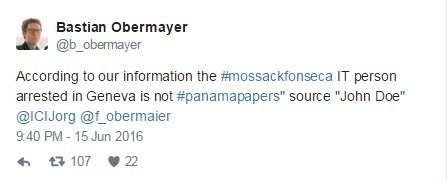 Working as a cyber security solutions architect, Alisa focuses on application and network security. Before joining us she held a cyber security researcher positions within a variety of cyber security start-ups. She also experience in different industry domains like finance, healthcare and consumer products.