Hacktivists from Ghost Squad Hacker group made revealed the identities of hackers affiliated with the ISIS cyber army called United Cyber Caliphate.
Ghost Squad Hackers (GSH), a hacktivist group made public the identities of hackers affiliated with the ISIS cyber army called United Cyber Caliphate,including leader Mauritania Attacker.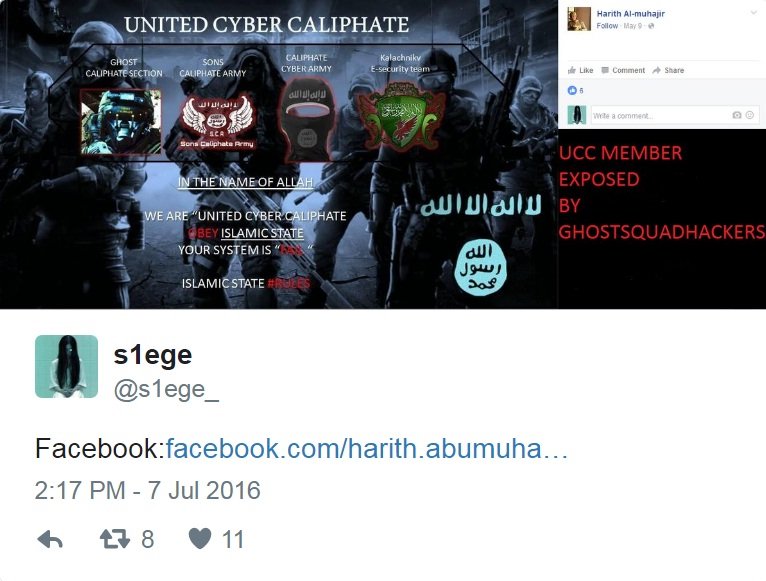 Prior to this, Ghost Squad Hackers had also gone against a Jordan based bankin May 2016 as it laundered money for ISIS as part of Operation Icarus. Ghost Squad Hackers were also involved in Op ISIS. In collaboration with Anonymous and other groups, they took down the Twitter and Facebook accounts of ISIS sympathizers.
Mauritania Attacker has been revealed to be Moulaye Ahmed Ould Ahmed Semane of Nouakchot, the capital city of Mauritania and his phone number (+22234656555) also disclosed. It might cut ISIS from all sources of propaganda as international press carries reports based on information fromISIS online channels.
While one of them is named Harith Al-muhajir, the other calls himself Ansari Levantine or Romato and as per his Facebook account is from the Philippines.
Just like Bangladesh attacks were by JMB and ISIS only took credit and did online propaganda, or Yemen or  Afghanistan, none of the networks outside of Iraq and Syria are of ISIS or IS. The media foolishly took the ISIS online propaganda outlet Amaq's claims on Dhaka attack at face value and created panic.
IS had similarly issued a hit list that also included names of 285 Indians,randomly picked up from social media! It is not a kill list but passwords picked by amateurs from dumps of mass password breaches like LinkedIn orMySpace ones.
As ISIS loses ground in Syria and Iraq, it will try to move from ISIS (Islamic State in Iraq and Syria) to IS (Islamic State). But since it doesn't have any network outside of Iraq and Syria, it will do a quid pro quo deal with Jihadi terrorist groups online. Swear allegiance to IS and IS does free online propaganda. Hence, IS might expand into cyberspace to create fear disproportional to
Hence, IS might expand into cyberspace to create fear disproportional to its on ground terror capabilities.
"We all know ISIS is not true Islam its fake and we are going to target every hacker inside of ISIS especially the " United Cyber Caliphate' which is a conjunction of hackers hacking for ISIS. They are trying to create a quote on quote 'Cyber Caliphate' and we intent to prevent that and stop them in their tracks thus we named the operation #OpReverseCaliphate.  Islam is not ISIS, ISIS is a gangattacking on Ramadan and they use drugs,  rape women and kill innocent children. Their victims are of all religions, in fact, most of their victims are Muslims in Syria & Iraq!"  added S1ege. 
Ghost Squad Hackers split from the AnonGhost hacker group when Mauritania Attacker and a few others supported ISIS. Thus two groups were formed: Ghost Caliphate that joined forces with ISIS, and Ghost Squad Hackers that opposed it.
Ghost Squad Hackers and prior to it, AnonGhost, were considered pro-Muslim hacking groups due to their support for Palestine. On being asked, S1ege replies: "Although we are Muslims Christians and Atheist we have no one religion and  we accept all. But (it's true that) majority of us are Muslims and we believe in  true Islam not this fake ISIS shit."
The war between good and bad Muslims seems to be culminating in the cyber world with indications of victory for the good ones. One hopes to see the war reach the same conclusion soon in Iraq and Syria as well.
Source:https://securityaffairs.co/

Working as a cyber security solutions architect, Alisa focuses on application and network security. Before joining us she held a cyber security researcher positions within a variety of cyber security start-ups. She also experience in different industry domains like finance, healthcare and consumer products.