Short Bytes: Google Hacking is the method to access information that's publicly available, but not intended for public distribution. Using certain intelligent search techniques, one can land unexpected results on Google search page. Here, we've compiled a list of the most popular Google Hacking techniques mentioned in NSA's hacking eBook. These methods include the use of file types, stock phrases, numrange etc. in the search process.
I
n the past, we have told you about many Google search tricks and tipsto up your game and find content effectively on the web. The government cyber spies and hackers also use these search engines to extract useful information.
Obviously, these search tricks are a little bit more advanced. Back in 2013, the National Security Agency released an eBook, uncovering new methods to search the intelligence information on the web.
Named Untangling the Web: A Guide to Internet Research, this 643-page guide is full of useful advice regarding how to use the Internet Archive, search engines, public websites etc. The most interesting part of this book is titled "Google Hacking".
What is Google Hacking? How does it work?
The NSA's guide describes Google ( or any search engine) Hacking as follows:
"Google hacking" involves using publicly available search engines to access publicly available information that almost certainly was not intended for public distribution."
It's basically a clever and legal method of finding information that's not available on the public internet.
If you want to understand how Google Hacking works, you need to read how search engines work. Thanks to its spiders, a search engine like Google can access and index all the parts of a website if a "door" is open. With the help of aRobot.txt file, webmasters have the power to restrict the search engine spiders.
Very often a webmaster fails to configure the Robot.txt file properly. This situation worsened a couple of years ago when Google started indexing file types like PDF, Word, Excel, Access, Excel etc.
Many of the organizations still don't prevent their sensitive data and files. Thus, tons of useful information is bound to appear in Google's database.
The information accessed using Google Hacking:
What if I tell you that you can get your hands on a plenty of shocking information using Google hacking? This data usually falls under these categories:
Personal and financial info
User ID, computer account logins, passwords
Private, or proprietary company data
Sensitive government information
Flaws in websites and servers
Common Google Hacking techniques:
These techniques are an excellent and unconventional method to discover sensitive information. Let's tell you about some of the most common ones.
Search using file types, keyword, and site type:
Many websites and organizations store their financial, personnel, etc., data in Microsoft Excel format. So, here's how you need to look for some sensitive information of a South African company. Don't forget to include keywords like Confidential, Budget etc.
[filetype:xls site:za confidential]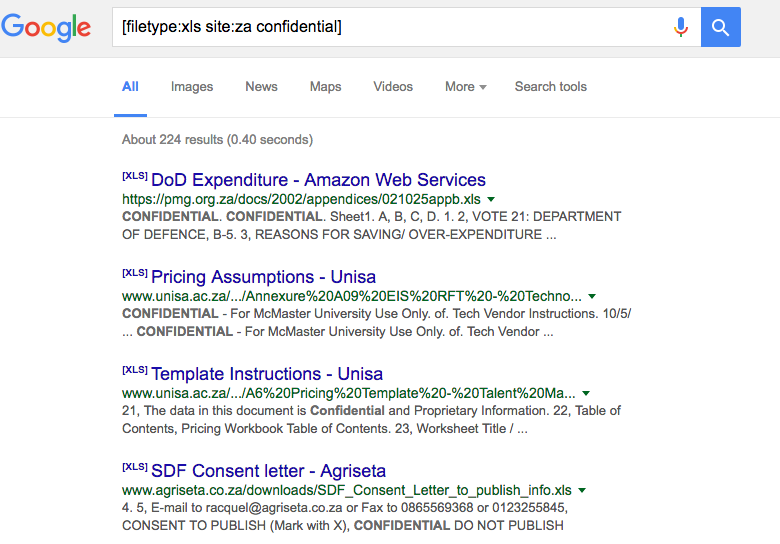 Use stock words and phrases:
Along with file types like Excel, Word, or PowerPoint, you are also advised to use stock words and phrases like do not distribute, confidential, proprietary, not for distribution, etc.
Look for files containing login information:
You need to search for files containing login, password, and userid information. It's interesting to note that even foreign websites usually use these terms in English. So a search for a spreadsheet file might look like:
[filetype:xls site:ru login]
Misconfigured web servers:
Very often Google contains directories that are not intended to be on the web. In Google Hacking, these servers provide a rich set of information. To exploit this error, one should use this format:
[intitle:"index of' site:kr password]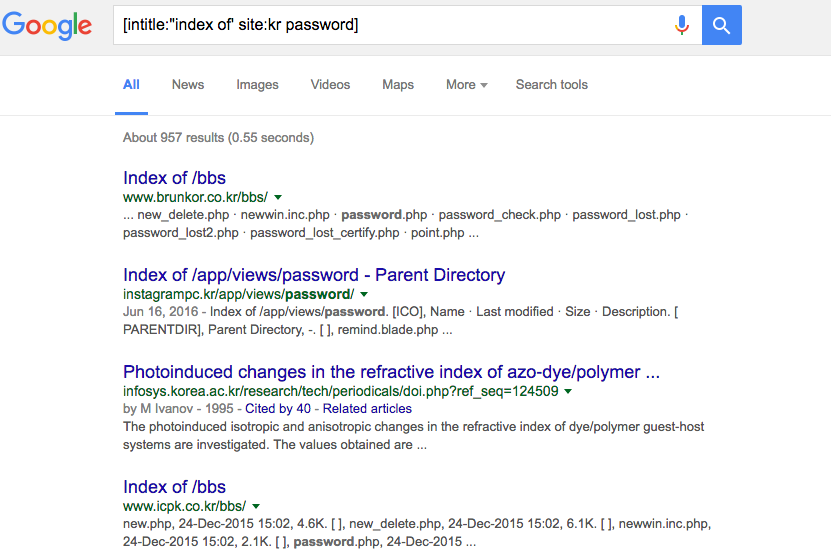 Numrange search:
NSA describes Numrange search as one of the "scariest searches available through Google. It uses 2 number separated by 2 dots and no spaces. A user can use it with search keywords and other search options. For example:
[site:
www.thisismydadsbank.com
617..780]
For more detailed information on these searches, you read the Google Hacking chapter in NSA's eBook.
Google Hack to search inside websites requiring registration:
Very often some websites ask you to register to view its contents. For that, you can use Google hacking to view contents without registration. You can try these queries or something similar:
[site:
www.companyname.com
inurl:database]
[site:
www.companyname.com
inurl:directory]
[site:
www.companyname.com
inurl:index]
[site:
www.companyname.com
inurl:companies]
Search in the native language:
With more and more people on the internet, people are becoming lesser dependent on English. Now millions of websites don't use languages written in the Latin alphabet. So, a search made in native language has the more probability of returning the expected result.
The NSA eBook explains more techniques that could be applied to any search engine. You can find the eBook here and learn some new Google Hacking tricks.
 Source:https://fossbytes.com/

Working as a cyber security solutions architect, Alisa focuses on application and network security. Before joining us she held a cyber security researcher positions within a variety of cyber security start-ups. She also experience in different industry domains like finance, healthcare and consumer products.