KimDotcom' Megaupload, the popular website seized by feds 5 years ago and currently managed by the FBI is serving adult content.
Sometimes really bizarre things happen and it is difficult to explain them. Is it possible that the FBI hosts a porn website? The first thing that I have is that the FBI might run a similar website for its investigation, its agents could launch a sort of watering hole attack in order to track a specific category of suspects (i.e. see PlayPen investigation and NIT tool).
Ok, sounds realistic, but why the notorious Megaupload.org website that was seized by law enforcement now is hosting porn and adult content?
Megaupload.org, the popular website operated by the notorious Kim Dotcom and seized by feds 5 years ago, and other domains currently managed by the FBI are serving adult content.
US authorities seized Kim Dotcom domains for piracy and copyright infringement, several assets of the popular entrepreneur are still under the control of the FBI.
Megastuff.co, Megaworld.mobi, Megaclicks.org, Megaupload.com, and Megavideo.com are some sample of the domains seized to Kim Dotcom.
"This week we discovered that Megaupload.org is now hosting a site dedicated to soft porn advertisements. Other seized domains are also filled with ads, including Megastuff.co, Megaclicks.org, and Megaworld.mobi."reported TorrentFreak.
The site initially was displaying explicit messages informing visitors that the FBI had seized it as part of a criminal investigation, but now things are changed and visitors can see adult content.
Exactly one year later, the FBI had "lost control" of the Kim Dotcom's domains, exactly in the same way, likely forgetting to renew them.
"Regular readers may recall that something similar happened to the mainMegaupload.com domain last year. At the time we traced this back to an expired domain the FBI used for their nameservers, Cirfu.net." continues torrentfreak.com"After Cirfu.net expired, someone else took over the domain name and linked Megaupload.com to scammy ads. The U.S. authorities eventually fixed this by removing the nameservers altogether, but it turns out that they didn't do this for all seized domains.
A few weeks ago the Cirfu.net domain expired once more and again it was picked up by an outsider. This unknown person or organization parked it at Rook Media, to generate some cash from the FBI-controlled domains."
Below the Tweet sent by Kim Dotcom one year ago.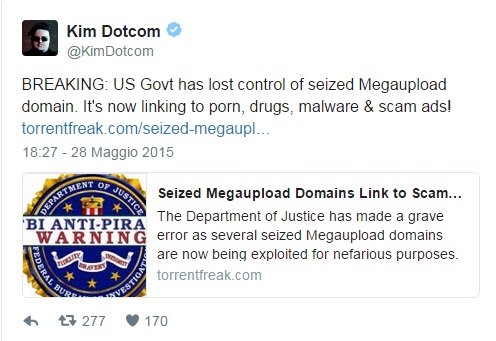 The WHOIS data related to the Megaupload domain still reports the old Cirfu.net nameservers.
"Their handling of the Megaupload domain is a reflection of the entire case: Unprofessional," commented Dotcom.
Source:https://securityaffairs.co/

Working as a cyber security solutions architect, Alisa focuses on application and network security. Before joining us she held a cyber security researcher positions within a variety of cyber security start-ups. She also experience in different industry domains like finance, healthcare and consumer products.