As a candidate, Trump VP castigated Clinton for use of a private e-mail server.
As the US Republican vice presidential candidate, Mike Pence vigorously chastised Hillary Clinton for using a personal server to send and receive official e-mails while she was Secretary of State. Not only was the arrangement an attempt to escape public accountability, he said, it also put classified information within dangerous reach of hackers.
Now come revelations that Pence routinely used a private AOL account to conduct government business while he was governor of Indiana and that the account was hacked last summer, just months before he turned the heat on his Democratic rival over her personal e-mail server. Use of the AOL account for state business came to light in a 2,100-word article published Thursday evening by The IndyStar. The news outlet based its report on e-mails it received under a public records request. State officials declined to release an unspecified number of e-mails because the state considers them confidential and too sensitive to release to the public.
Pence used the account starting in the mid 1990s and continued using it until it was hijacked in 2016, three years into Pence's four-year tenure as governor, the news outlet reported. The hackers who compromised the account used it to send a scam e-mail to Pence's contacts, falsely claiming that the governor and his wife were stranded in the Philippines and in urgent need of financial assistance. Pence then abandoned that account and opened a new AOL account.
The ability of the hackers to access Pence's contact list means they almost certainly gained access to Pence's inbox and outbox. The hack of Pence's account came two years after AOL said an unknown number of its mail accounts had been compromised and directed all users to change their passwords. The scam e-mail sent to Pence's contacts suggests the hack was part of a broad, opportunistic attack, rather than one that targeted Pence in particular. Still, there's no way to rule out that more covert and targeted hacks also penetrated the account.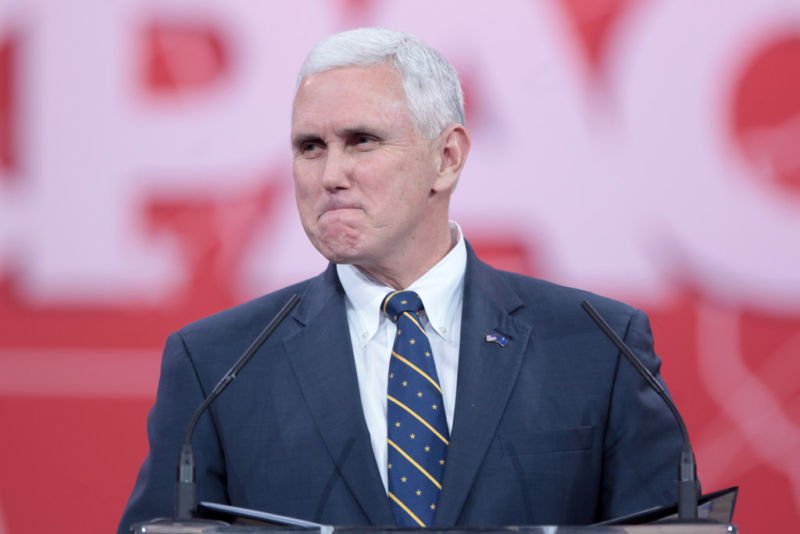 During Pence's four years as governor, e-mails obtained by The IndyStarshow, he used the account to discuss official government business, including matters considered sensitive and security related. Correspondence among Pence, his then-chief of staff, Jim Atterholt, and his top public safety and homeland security adviser John Hill, discussed subjects including Pence's efforts to prevent the resettlement of Syrian refugees and the state's response to a shooting at Canada's national parliament building.
Much or all of that information was reported in the news media, but it remains unclear what was discussed in the e-mails that officials declined to release. Personal e-mails aren't immediately captured on state servers that are searched in response to public records requests, raising questions about transparency. As The IndyStar reported:
Indiana law requires all records dealing with state business to be retained and available for public information requests. Emails exchanged on state accounts are captured on state servers, which can be searched in response to such requests. But any emails Pence sent from his AOL account to another private account likely would have been hidden from public record searches unless he took steps to make them available.
Indiana Public Access Counselor Luke Britt, who was appointed by Pence in 2013, said he advises state officials to copy or forward their emails involving state business to their government accounts to ensure the record is preserved on state servers.
But there is no indication that Pence took any such steps to preserve his AOL emails until he was leaving the governor's office.
When public officials fail to retain their private-account emails pertaining to public business, "they're running the risk of violating the law," Britt said. "A good steward of those messages and best practice is going to dictate they preserve those."
All of the emails provided to IndyStar, part of the USA TODAY Network, were ones captured on state servers.
The emails were obtained after a series of public records requests that the Pence administration did not fulfill for nearly four months before Pence left office.
The administration of Pence's successor, Gov. Eric Holcomb, released 29 pages of emails late this past week. But it withheld others, saying they are deliberative or advisory, confidential under rules adopted by the Indiana Supreme Court or the work product of an attorney.
Holcomb's office declined to disclose how many emails were withheld.
To be sure, Pence is by no means the only governor or government official to use a personal e-mail account to discuss official government business. What sets him apart, however, was his fierce criticism of Clinton for her use of a private e-mail server to conduct official State Department business. In late October, for instance, shortly after FBI Director James Comey reopened an investigation into Clinton's e-mail practices, Pence issued a tweet praising the move "because no one is above the law.
Indiana law, according to Thursday's report, doesn't bar public officials from having private e-mail accounts, but it's generally interpreted as requiring any official business conducted through private e-mail to be retained for public record purposes. Pence's office said his campaign hired outside counsel as he was departing as governor to review his AOL emails and transfer any involving public business to the state. There's no indication he took any such steps to preserve his AOL emails prior to his departure.
 Source:https://arstechnica.com/

Working as a cyber security solutions architect, Alisa focuses on application and network security. Before joining us she held a cyber security researcher positions within a variety of cyber security start-ups. She also experience in different industry domains like finance, healthcare and consumer products.