Visa, MasterCard, and Symantec among dozens affected by "suspicious" BGP mishap.
On Wednesday, large chunks of network traffic belonging to MasterCard, Visa, and more than two dozen other financial services companies were briefly routed through a Russian government-controlled telecom under unexplained circumstances that renew lingering questions about the trust and reliability of some of the most sensitive Internet communications.
Anomalies in the border gateway protocol—which routes large-scale amounts of traffic among Internet backbones, ISPs, and other large networks—are common and usually the result of human error. While it's possible Wednesday's five- to seven-minute hijack of 36 large network blocks may also have been inadvertent, the high concentration of technology and financial services companies affected made the incident "curious" to engineers at network monitoring service BGPmon. What's more, the way some of the affected networks were redirected indicated their underlying prefixes had been manually inserted into BGP tables, most likely by someone at Rostelecom, the Russian government-controlled telecom that improperly announced ownership of the blocks.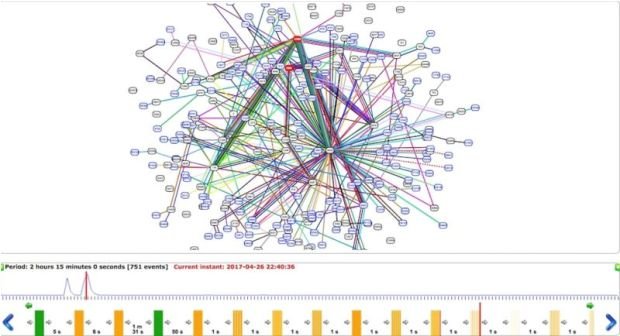 "Quite suspicious"
"I would classify this as quite suspicious," Doug Madory, director of Internet analysis at network management firm Dyn, told Ars. "Typically accidental leaks appear more voluminous and indiscriminate. This would appear to be targeted to financial institutions. A typical cause of these errors [is] in some sort of internal traffic engineering, but it would seem strange that someone would limit their traffic engineering to mostly financial networks."
Normally, the network traffic bound for MasterCard, Visa, and the other affected companies passes through services providers that the companies hire and authorize. Using BGP routing tables, the authorized providers "announce" their ownership of the large blocks of IP addresses belonging to the client companies. On Wednesday afternoon at around 3:36pm Pacific time, however, Rostelecom suddenly announced its control of the blocks. As a result, traffic flowing into the affected networks started passing through Rostelecom's routers. The hijacking lasted five to seven minutes. When it was over, normal routing was restored. The event is nicely captured in a graphic here, which uses BGPlay.
The hijacking could have allowed individuals in Russia to intercept or manipulate traffic flowing into the affected address space. Such interception or manipulation would be most easily done to data that wasn't encrypted, but even in cases when it was encrypted, traffic might still be decrypted using attacks with names such as Logjam and DROWN, which work against outdated transport layer security implementations that some organizations still use.
Madory said that even if data couldn't be decrypted, attackers could potentially use the diverted traffic to enumerate what parties were initiating connections to MasterCard and the other affected companies. The attacker could then target those parties, which may have weaker defenses.
According to shareholder information provided by Rostelecom, the Russian government owns 49 percent of the telecom's ordinary shares. The US Department of Commerce lists Rostelecom as a state-owned enterprise and reports that one or more senior government officials have seats on Rostelecom's board of directors. Rostelecom officials didn't respond to e-mail seeking comment for this post.
The affected company networks also included those belonging to security provider Symantec and technology company EMC. A list of 36 affected network prefixes and registered owners and locations of those prefixes are:
202.138.100.0/24 Reliance Communications Bangalore State of Karnātaka IN
145.226.109.0/24 Euro-Information-Europeenne de Traitement de l'Information SAS Paris Île-de-France FR
193.58.4.0/24 Fortis Bank N.V. Brussels Bruxelles-Capitale BE
217.75.242.0/24 Servicios de Hosting en Internet S.A. ES
194.153.135.0/24 Norvik Banka LV
93.190.87.0/24 Modrium Mdpay Oy NUF Øy Nord-Trøndelag Fylke NO
217.117.65.0/24 NET_217_117_65 UA
195.76.9.0/24 REDSYS SERVICIOS DE PROCESAMIENTO SLU
64.75.29.0/24 Arcot Systems, Inc. Sunnyvale CA US
206.99.153.0/24 Savvis Singapore SG
198.241.161.0/24 VISA INTERNATIONAL CO US
203.112.91.0/24 HSBC banking and financial services Hong Kong HK
196.38.228.0/24 Internet Solutions Johannesburg Gauteng ZA
216.136.151.0/24 Savvis Arlington VA US
198.161.246.0/24 EMC Corporation Southborough MA US
212.243.129.0/24 UBS Card Center AG Glattbrugg Kanton Zürich CH
203.112.90.0/24 HSBC banking and financial services Hong Kong HK
216.150.144.0/24 Xand Corporation Farmingdale NY US
195.20.110.0/24 Bank Zachodni WBK S.A. Poznań Województwo Wielkopolskie PL
193.16.243.0/24 Servicios Para Medios De Pago S.A. ES
202.187.53.0/24 TIME DOTCOM BERHAD Shah Alam Selangor MY
160.92.181.0/24 Worldline France hosting FR
145.226.45.0/24 Euro-Information-Europeenne de Traitement de l'Information SAS Strasbourg Alsace FR
195.191.110.0/24 card complete Service Bank AG Vienna Wien AT
193.104.123.0/24 PROVUS SERVICE PROVIDER SA Bucharest București RO
69.58.181.0/24 Verisign, Inc. New York NY US
194.5.120.0/24 DOCAPOST BPO SAS FR
89.106.184.0/24 Worldline SA Frankfurt am Main Hessen DE
217.75.224.0/19 Servicios de Hosting en Internet S.A. Madrid Comunidad de Madrid ES
195.114.57.0/24 DNBNORD PLC LV
198.241.170.0/24 VISA INTERNATIONAL CO US
216.119.216.0/24 MasterCard Technologies LLC Wentzville MO US
193.203.231.0/24 SIA S.p.A. Milano Lombardia IT
65.205.249.0/24 Symantec Inc Mountain View CA US
194.126.145.0/24 Netcetera AG Zürich Kanton Zürich CH
65.205.248.0/24 Symantec Inc Mountain View CA US
The above list filtered out 14 Russia-based prefixes that Rostelecom announced around the same time.

Working as a cyber security solutions architect, Alisa focuses on application and network security. Before joining us she held a cyber security researcher positions within a variety of cyber security start-ups. She also experience in different industry domains like finance, healthcare and consumer products.