This week, with the release of Windows 10 Insider Preview Build 16251 for PC, Microsoft added support for linking Android devices to one's computer, allowing users to share files from their smartphone to their PC with the tap of a few buttons.
For now, this "integration" works more like the Pocket app and lets users share URLs from their phone's browser to the one on their computer.
Microsoft adds "Android" section to settings panel
To do this, users must first visit the Windows 10 Settings panel and access a recently added section named "Android." Here they'll have to link their phone with their PC. Once this is done, Microsoft will send an SMS to the user's phone with a link to an Android app called "Microsoft Apps."
This new Microsoft app will add extra controls to the user's Android sharing features, adding a new option named "Continue to PC." This option can be used to send URLs to the linked PC.
The action can take two forms. Pressing "Continue now" will immediately open the link inside the PC's default browser when the user logs on his computer the next time. Pressing "Continue later" will send the link to the PC's Action Center, and the user can choose to open it at a later time.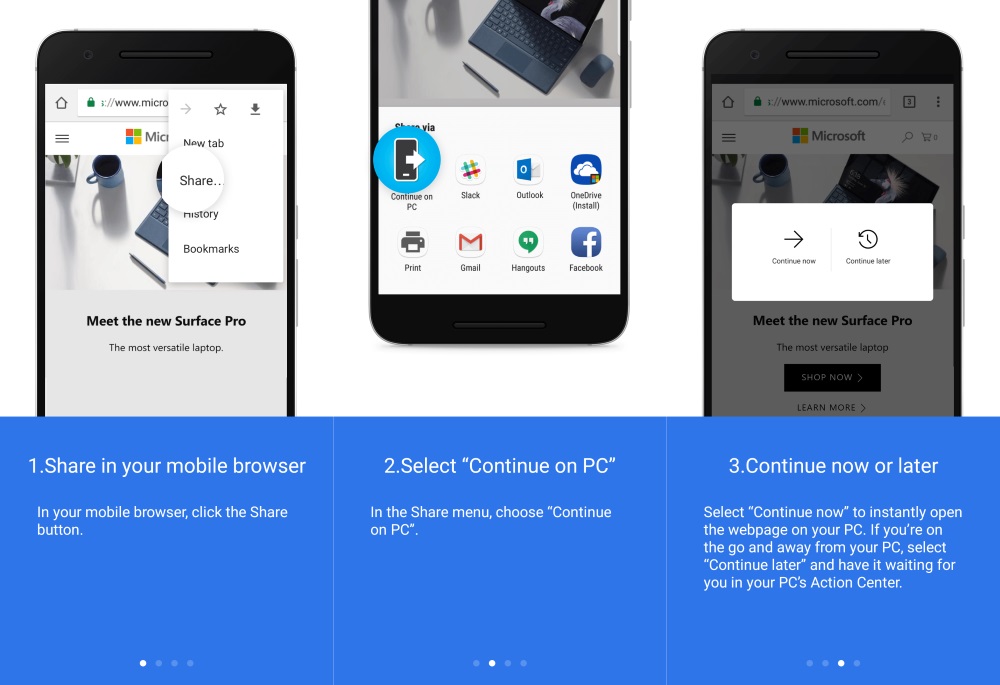 This link sharing feature is somewhat inferior to specialized link sharing services like Pocket or Instapaper because it does not have a special dashboard to list all shared URLs.
iOS integration is on its way
Despite this crude implementation, the Windows 10 Insider Preview Build 16251 is important because this is the first version where we see a dedicated section in the Windows Settings panel for linking a PC with an Android smartphone.
This option will be the place where Microsoft adds more features in the upcoming feature. One of them, still under testing, is a for easily sharing files between the user's phone and PC. This feature is part of the beta version of Microsoft's Arrow Hub Android launcher app. Currently, testing this new feature is not going too well, as the sharing experience is cumbersome and involves a multi-step process. It is easier at the moment to install the OneDrive app on your phone and share files to your PCs in an easier fashion.
All these features are still under testing and will be polished before release (let's hope so). Nonetheless, we're pleased to see Microsoft adding the early support for Android integration.
The company says it has plans for a similar feature for iOS devices.
Other Windows 10 Insider Preview Build 16251 features
Besides the Android integration, this week's Insider Build release also hides some other gems. For example, you can now tell Cortana to shut down or restart your PC via the following commands.
    "Hey Cortana, restart PC."
"Hey Cortana, turn off PC."
"Hey Cortana, sign out."
"Hey Cortana, lock PC."
Additionally, the Windows Search field now embeds web results directly in the Start Menu. In current Windows versions, this option was not available and was present in the form of  "[search term] – See web results."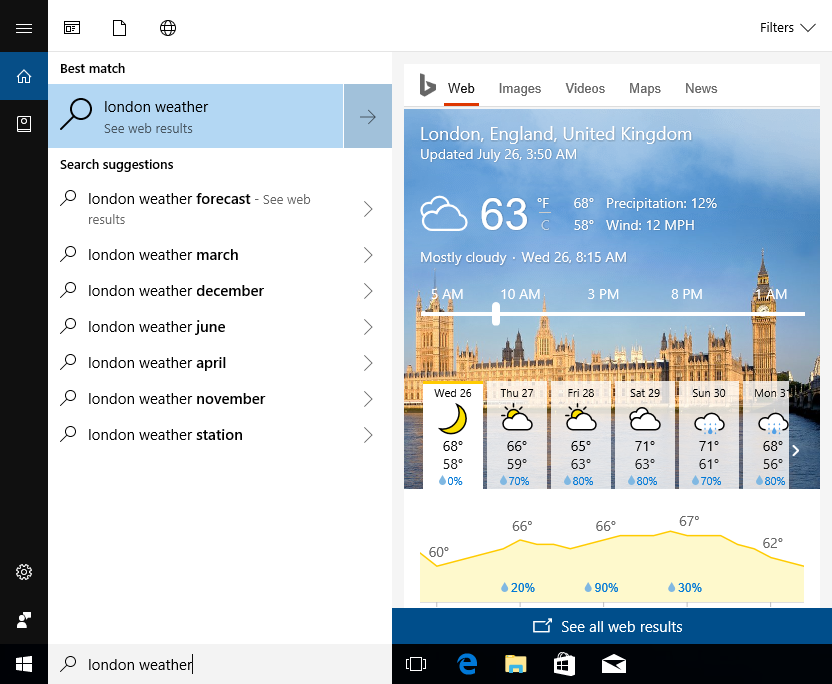 Source:https://www.bleepingcomputer.com/news/microsoft/microsoft-adds-support-for-linking-android-phones-to-windows-10-pcs/

Working as a cyber security solutions architect, Alisa focuses on application and network security. Before joining us she held a cyber security researcher positions within a variety of cyber security start-ups. She also experience in different industry domains like finance, healthcare and consumer products.