BitMixer, the world's most popular Bitcoin mixing service has announced last weekend it was shutting down operations effective immediately.
Bitcoin mixing is a process of taking money from one account and breaking it into hundreds or thousands of smaller transactions to transfer it to another account.
For years, it was believed that Bitcoin mixing is a safe way to transfer funds anonymously from one account to another, mainly because there was no technology to track all the transactions and reveal the destination account.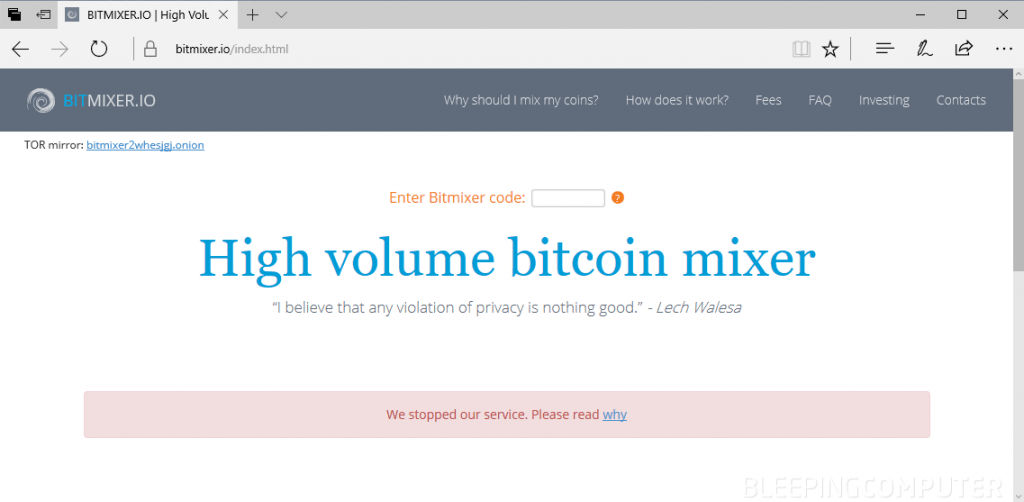 BitMixer: Bitcoin is non-anonymous by design
In a statement, the BitMixer owners said they were shutting down the service after realizing that Bitcoin was a "transparent non-anonymous system by design."
In recent years, companies invested large amounts of money in the efficient tracking of Bitcoin transactions via the public ledger (blockchain).
For example, this week — unrelated to the BitMixer announcement — Google and blockchain analysis firm Chainalysis announced they tracked down Bitcoin transactions for ransomware payments, even if the money was broken apart through Bitcoin mixers.
In fact, almost all crooks use Bitcoin mixers to launder their ill-gotten Bitcoin funds. This week, authorities also arrested the owner of the BTC-e Bitcoin trading platform for his involvement in laundering money from several hacked Bitcoin platforms. Authorities, with the aid of private investigators, tracked the stolen funds to some of the BTC-e owner's Bitcoin wallets, even if those funds had been funneled through Bitcoin mixers.
BitMixer anticipates that Bitcoin mixing will become illegal
BitMixer was founded in 2011, and it shut down three days after US and European authorities had announced they infiltrated and shut down the Dark Web's two largest illegal marketplaces — AlphaBay and Hansa.
BitMixer's owners are well aware that criminals used their service. They said so in their final statement, citing the influence of Dark Web marketplaces on their decision to shut down their service.
"Blockchain is a great open book. I believe that Bitcoin will have a great future without dark market transactions. You may use Dash or Zerocoin if you want to buy some weed. Not Bitcoin," the BitMixer team wrote.
"I hope our decision will help to make Bitcoin ecosystem more clean and transparent. I hope our competitors will hear our message and will close their services too. Very soon this kind of activity will be considered as illegal in most of countries," the team also wrote, issuing a warning for fellow Bitcoin mixers.
The beginning of the end for Bitcoin mixers
BitMixer's announcement doesn't surprise anyone except casual Bitcoin users. Cryptocurrency aficionados are well aware of the fact that Bitcoin is not anonymous. That's why some created newer cryptocurrencies such as Monero and Zcash.
BitMixer's announcement and subsequent shut down will be a cornerstone in Bitcoin's history, being the first mixer service that shuts down realizing its own uselessness and futility. As authorities extend their administrative powers over Bitcoin's domains, its prediction that mixer services will become illegal may soon become a reality.
There is no void in the Bitcoin mixing market after BitMixer's shutdown, as there are plenty of alternative services users can choose from, although, a large number of these are scams, as some just take the user's money without forwarding it to the final destination.
 Source:https://www.bleepingcomputer.com/news/technology/internets-largest-bitcoin-mixer-shuts-down-realizing-bitcoin-is-not-anonymous/

Working as a cyber security solutions architect, Alisa focuses on application and network security. Before joining us she held a cyber security researcher positions within a variety of cyber security start-ups. She also experience in different industry domains like finance, healthcare and consumer products.