AWS SSO will let users manage access to multiple AWS accounts and applications using their existing corporate credentials.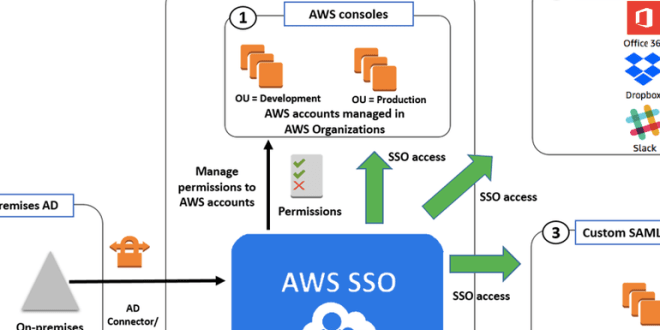 On Thursday, the company quietly announced AWS SSO, a single sign-on service for the AWS cloud. Amazon describes the product as a centralized portal from which users can manage access to multiple AWS accounts and applications using their existing corporate credentials.
AWS said SSO is integrated with AWS Organizations to let users configure and maintain permissions automatically, and that it also supports Security Assertion Markup Language (SAML) 2.0, which allows users to extend SSO access to their SAML-enabled apps via an application configuration wizard.
"For example, you can give your security team administrative-level access to your AWS accounts running your security tools, but only grant them auditor-level access to your other AWS accounts for monitoring purposes," according to the SSO product page.
AWS SSO also includes built-in SSO integrations with a bevy of business apps, including Salesforce, Box, Slack, and Office 365. What's more, the tool also works with Microsoft Active Directory (AD), which means users will be able to authenticate with their AD credentials.
Single sign-on products have become increasingly popular in the era of cloud computing, as more employees struggle to manage passwords for cloud services from multiple providers. The big players in the space include OneLogin and Okta, the latter of which just went public in April.
Despite Amazon's reputation for gobbling up markets, Okta founder and CEO Todd McKinnon is brushing off concern and reiterating Okta's position in the identity management space. "Following in the footsteps of Microsoft and Google, Amazon's announcement is further validation that identity is a highly strategic market," he said in an emailed statement.
"We've seen this story before with Salesforce Identity, Microsoft and Google. We're confident in our ability to continue driving innovation in the market as the leading, independent identity provider."
It's time to stop thinking of Amazon Web Services as an infrastructure company as it moves up the stack and value chain to technologies such as artificial intelligence, IoT and Alexa for Business.
Source:https://www.zdnet.com/article/amazon-launches-single-sign-on-service-for-aws-cloud/

Working as a cyber security solutions architect, Alisa focuses on application and network security. Before joining us she held a cyber security researcher positions within a variety of cyber security start-ups. She also experience in different industry domains like finance, healthcare and consumer products.