Different countries have different requirement of cyber security. It's an real fact, that every government wants to monitor activity of its citizens. This is in the name of national security and to stop high level of crime before it becomes more severe. Most of the countries are doing mass surveillance on their citizens or users online activity. It's really an dispelling myth that security is same around the world. Government Collects diversified data which involves their browsing activities, location data and sometimes data that are very personal to users. There are many countries which have created an mass surveillance system to capture activities of their citizens. Recently China has created SKYNET surveillance system with artificial intelligence recognition to know each activity of their user. This also helps china to predict some of the behavior of their citizens.
There are many countries like Norway, Spain, Canada, USA & other countries where government manages law enforcement agencies to keep strict eye on their citizens. Depending upon the country laws, some government agencies have even access to citizen's privacy. Which involves, Where Users are going? What users are posting on Social Media? What type of entertainment or content users is watching?
But what about citizens privacy? There are many companies which provides different proxies or VPN to hide their actual identity or IP address. Users can use VPN services like Surfshark. It gives your freedom to do anything, anytime and anywhere.
According to surfshark, they claim to maintain the tremendous speed in different countries. It provides consistency while surfing the internet. Using this users can access any global content without any restrictions and fear of being logged by government.
Some countries put restriction on open content. That's wheresurfshark comes in, it unblock all the global content. It is good for gaming, using torrent, streaming websites.
Every ISP (Internet Service Provider) is keeping an strict eye on its users in the name of national security. All the rules to monitor internet service provider users are governed by the local law enforcement agencies of respective countries. Such Internet service provider sometimes only allow government approved websites to its users. Now the users of a country has only option left is either, not to open the blocked websites or use surfshark to browse all the blocked websites. This also helps users or citizens of countries to browse internet freely and maintain their anonymity on the internet. It has some great features to maintain the anonymity of users.
Country like China where many popular search engines are banned. According to Wikipedia, there are many countries where internet censorship & mass surveillance is occurring.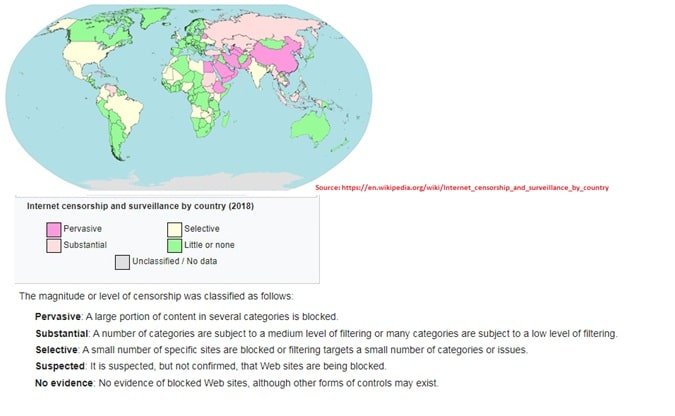 User can use such these services to browse the blocked websites from their country. It offers P2P services for faster downloading and it is easy setup to work in different countries to provide speed to its users. The presence of such virtual private networks in different countries also helps in maintaining the anonymity of users and bypass the restrictions enforced on the citizens of a country.
Future of the internet is getting more closer on keeping an eye on each and every citizen of the country to monitor its activities and predict his/her future acts using high end Artificial intelligence devices. Going forward it is assumed that the more government bodies will do surveillance more people will find their ways to bypass all surveillance mechanisms and live their lives freely using VPN services like surfshark.
There are many streaming sites like Netflix, BBC iplayer, Vuduwhich are accessible through its platform. This VPN works very well from any location. Many VPNs services don't provide an option to chooseVPN servers in different countries. It provides an option to choose desired VPN server running in different countries also.

Working as a cyber security solutions architect, Alisa focuses on application and network security. Before joining us she held a cyber security researcher positions within a variety of cyber security start-ups. She also experience in different industry domains like finance, healthcare and consumer products.