Facebook has now become most common platform for many users. With facebook you can do much more then making friends. You can also promote your business on facebook by creating pages related to your products. Facebook is also the most targeted social platform by the attackers/ spammers. We will show you methods to secure facebook account.
Methods To Save Facebook Account :
Change Password & Never Save Your Public Credentials –
The most common and simple security feature is to keep your password secure. Don't share your password with anyone. Don't write your password on any paper. If you are using more than one account. You can use password managers for keeping your all your password
According to ethical hacking researcher of international institute of cyber security, keeping password strong is one factor, but users should be cautious about social engineering attacks done to steal facebook passwords.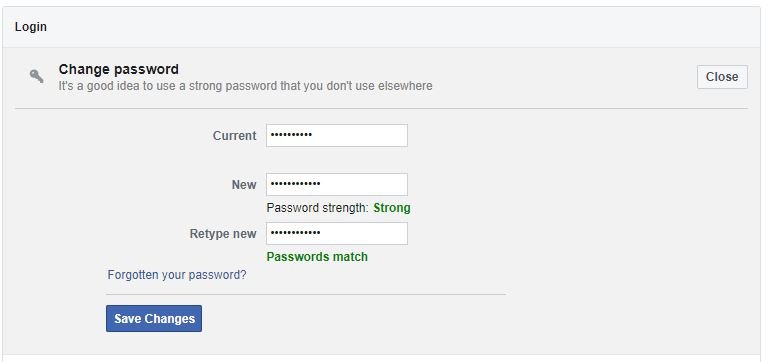 If you are using any public computer, or you are using an share computer. Never click on to remember password of browser. And facebook has a feature to Save Your Login Information.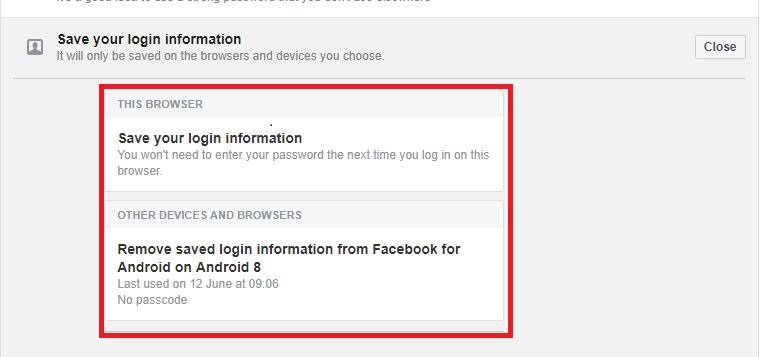 If you have accidentally click on save password. You can remove this setting. Open Your Facebook Account Setting < Security And Login < Click on Edit in front of Save your login information and then click on Removed saved login information from facebook.
This will remove the save password from facebook.
Two Factor Authentication –
This security feature should be must for any facebook account. Users should use two-factor authentication. Which makes an added security.
You have to enter your mobile number. In which, you will receive code which you need to enter after you log in into your facebook account every time.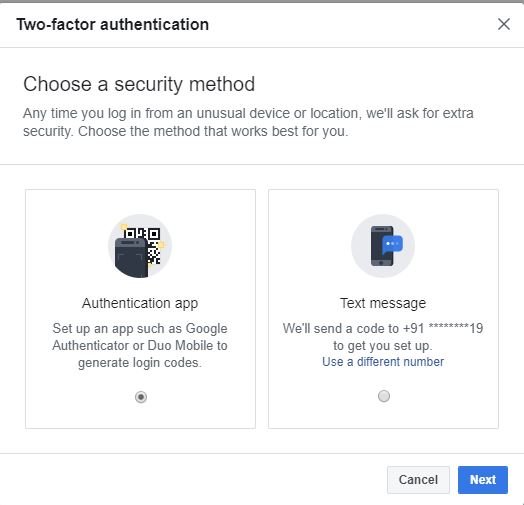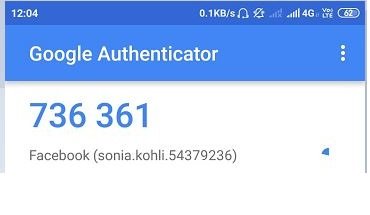 You have to enter above code after logging into your facebook account. The code changes every one rotation of circle (on right side).
This app works offline also. The code changes on every rotation of a circle. This feature gives an next level security for facebook account.
If your account password has been cracked. Attacker won't be able to enter into your facebook account. As attacker has also bypass two factor authentication.
Authorised Logins –
Always check for authorized devices, which are registered devices to access facebook. Review this setting from time to time and remove unauthorized devices.

You can authorize logins in the above settings.
Get Alerts On Unrecognised Logins –
This feature will send you an alert message to your configured mail id or if you have installed facebook messenger in your mobile. It will send an alert if some one login to your account. You can take action immediately.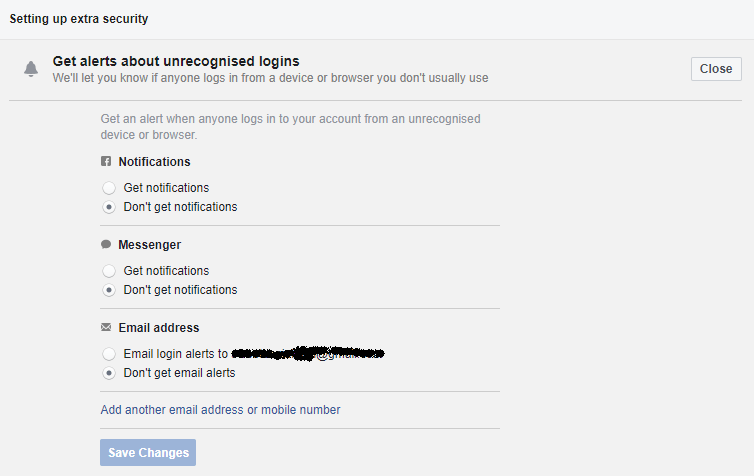 Above are the listed features, which you can use in getting alerts.
Trouble Accessing Your Account –
You can choose any of 3 to 5 friends for helping you. Trusted contacts will send you code and URL for accessing your facebook account.
You have to enter at least three contacts for accessing facebook.

Above screenshot shows choose at least 3 friends.
Facebook can be used to gather information !
In this phase we will show you, how to keep your privacy settings. Privacy settings does give an impact on your social media account.
Facebook Privacy & tools shows an option where you can check your regular activity or you can help others to contact you.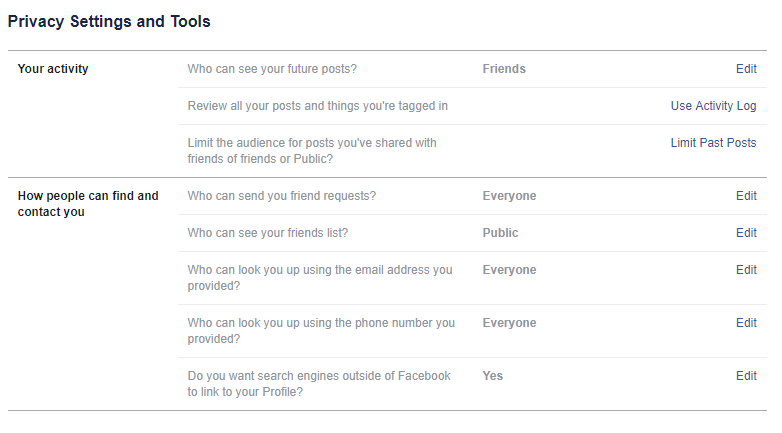 Above screenshot shows options, how you can control your activity. who can see your posts. Who can tag you in a post.
Facebook also shows how people can search you, who can see your friend list. Such minimal settings can stop from stocking you on facebook. Such settings like friends list, email address, using phone number, or you want another search engines to find you. These settings should be keep to ONLY ME.
As it will help to secure your profile & there will be very less chances of information gathering of your facebook account.
Apps & Websites –
You can check connected apps & websites in this section of privacy settings. You will find various apps & websites which uses facebook for log in.
In this section you will see the list of applications or web sties which are logged in using facebook credentials.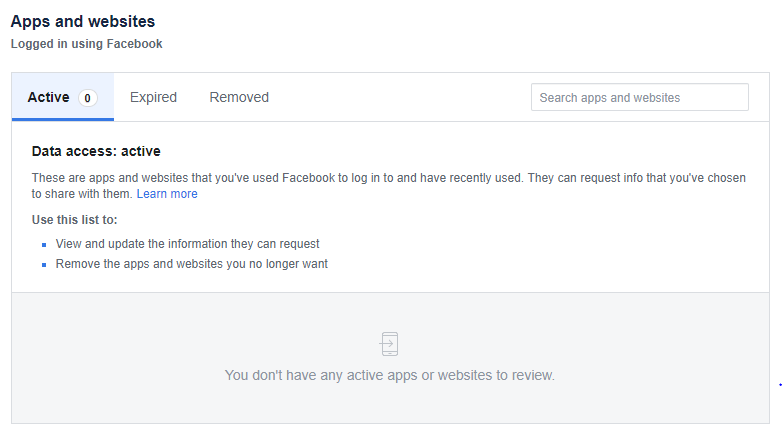 There are 3 columns. In Active – you will find active sessions. In expired – session which are closed or expired will be shown & in Remove – you can remove any website or application.
Stop facebook from showing personalized Advertisement –
Facebook uses various methods of showing ads and related content you visit. Your likes, comment are all passed though a artificial Intelligence system. That what user loves to see.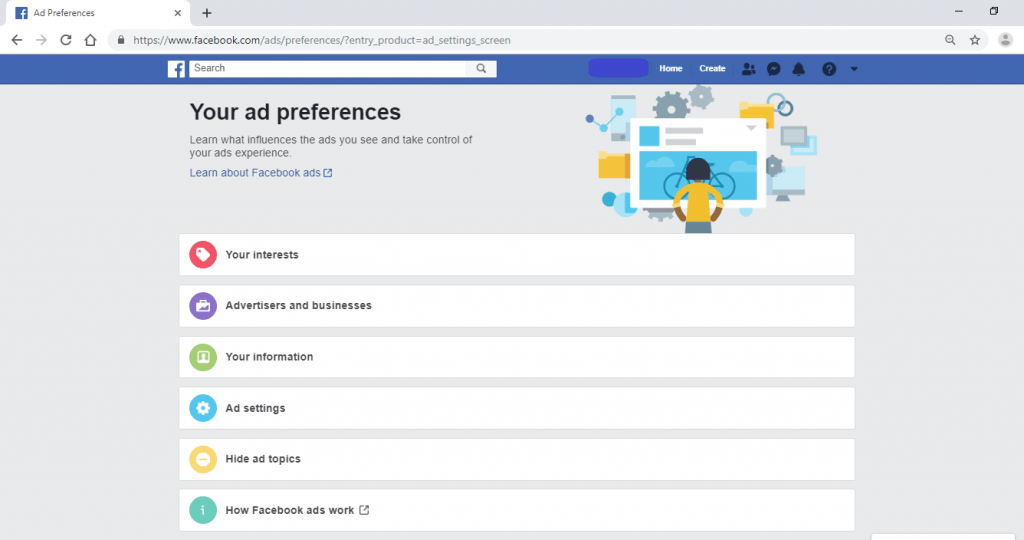 Above are the settings of facebook Ads preferences. In these section if you click on Your interests. You will find various pages showing with –

You can close such ads which continuously follows you.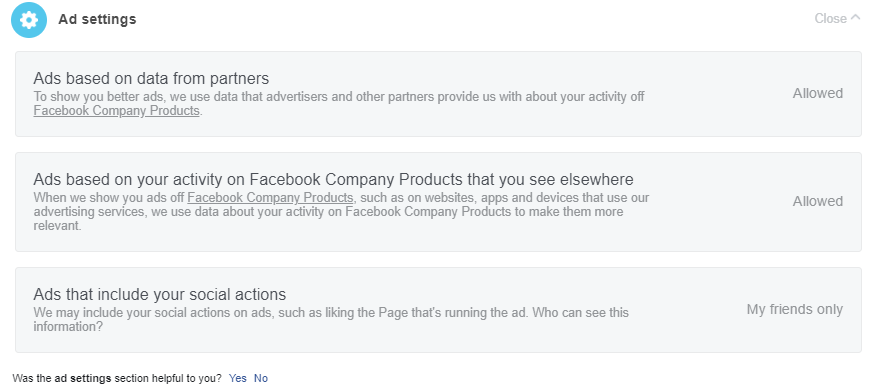 Click on Ads based on your activity on Facebook company products that you see elsewhere. Choose not allowed. After changing such settings. You will be not see any ads related pages you visit.
Another options of facebook that include your social actions. Which means if you like any page. Another person can also see your name in your page like. Here you can choose whether page like should be shown to friends or no one.
For permanent solution, consider using an adblocker. Adblocker can help to block unnecessary ads on other web pages. And no other relevant ads will be shown on facebook.
Using Public or anyone else computers/laptop/tablets –
If you are using any public computer or any cafe computer which is common for everyone. So be careful before opening account in any public computer. Before opening your account.
Check if there is any unusual behavior in the computer. If you find something suspicious. Do not open your social networking accounts or any accounts.
If you still want to open, use private session or after using clear cache & cookies from the computer.
As per ethical hacking researcher of International institute of Cyber Security it is always good practice to use 2 way authentication to get another level of security and always check the green padlock in the URL when opening facebook using chrome browser.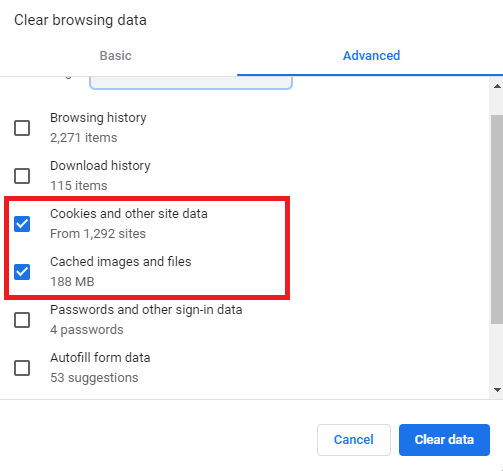 Above screenshot shows the cache & cookies data which you should considering it clear for security purposes.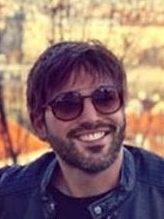 Cyber Security Researcher. Information security specialist, currently working as risk infrastructure specialist & investigator. He is a cyber-security researcher with over 25 years of experience. He has served with the Intelligence Agency as a Senior Intelligence Officer. He has also worked with Google and Citrix in development of cyber security solutions. He has aided the government and many federal agencies in thwarting many cyber crimes. He has been writing for us in his free time since last 5 years.