Millions of people turn to the Internet every day for multiple reasons, from simple things like posting a tweet to remote work, especially in the context of social distancing due to coronavirus. The Internet has become a fundamentally used tool and allows access to multiple resources easily, although experts from a hacking course point out that it is also one of the main areas of operation for hundreds of criminal groups and illegal activities.
For years law enforcement agencies around the world have devoted considerable resources to combating illicit activities on the Internet, although acceptable results have been achieved, this is limited to what the cybersecurity community knows as "conventional Internet", as cybercriminal groups still operate with relative freedom on dark web, a network that can only be accessed through specific tools and where most of the cybercriminal activity, so trying to enter this network is not recommended for conventional users.
According to agencies such as Europol and the FBI, this area of the Internet is mainly used by drug dealers, pedophiles, malicious hackers and for-hire killers. However, one of the fastest growing activities has shown the most recently is the sale of falsified documents, highly requested by suspected criminals, immigrants and even political refugees. Although this seems like a practice reserved for fiction, it has become a reality in multiple countries.
Hacking course experts claim that it is possible to find multiple variants of stolen and forged documents, including passports, driver's licenses, academic documents and even bank accounts. Regarding the cost of these documents, buying a new identity can be relatively inexpensive. The firm SafetyDetectives has carried out an exhaustive analysis, visiting various forums on dark web to find the average cost of these services in different countries.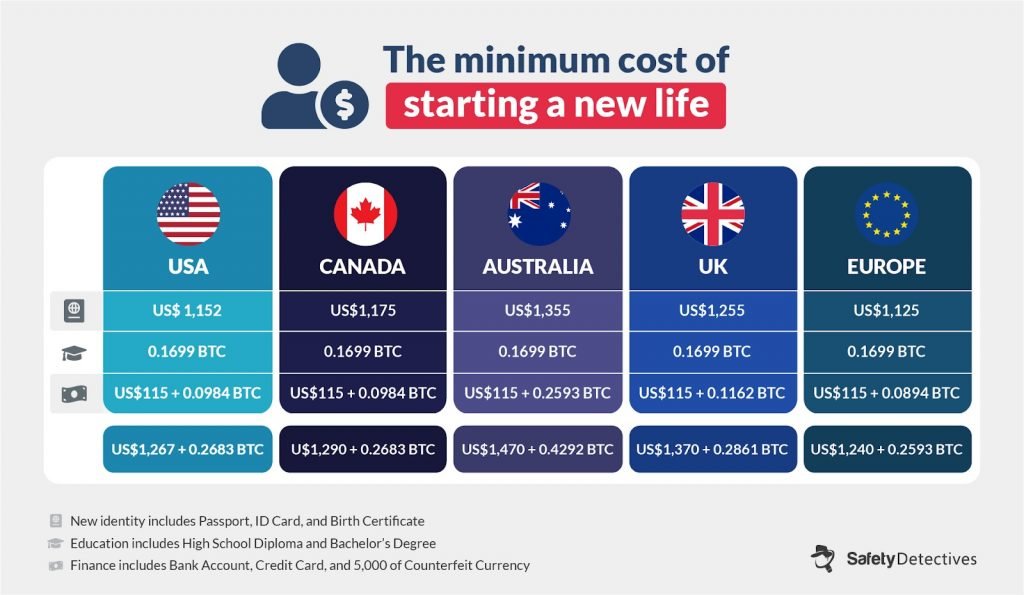 The first finding relates to the payment method; while in some cases it is possible to perform conventional transactions, most of these platforms require cryptocurrency trading like Bitcoin (BTC), due to the difficulty of tracking users behind each transaction. It is also possible to use other cryptocurrencies, although Bitcoin is the most required.
COST COMPARISON BY COUNTRY
Like the cost of many other products and services, payment for illegally purchased documents varies depending on various factors, mainly location, plus difficulty in purchasing them and the purported source. According to specialists, the average cost is $1,300 (0.26 BTC depending on the current exchange rate).
The average cost (in US dollars) in each of the countries analyzed is:
United States – $1,267 USD (0.2683 BTC)
European Union – $1,370 USD (0.2593 BTC)
Canada – $1,290 (0.2683 BTC)
United Kingdom – $1,370 (0.2861 BTC)
Australia – $1,470 USD (0.4292 BTC)
ACQUIRING A NEW IDENTITY
United States
According to the report of the specialists of the hacking course, the minimum cost of a new identity in the United States is $1,267 USD (0.2683 BTC). One of the most requested documents is the American passport, available on various dark web forums for $710 USD. ID cards and driver's licenses are also in high demand, and their prices range from $20 USD.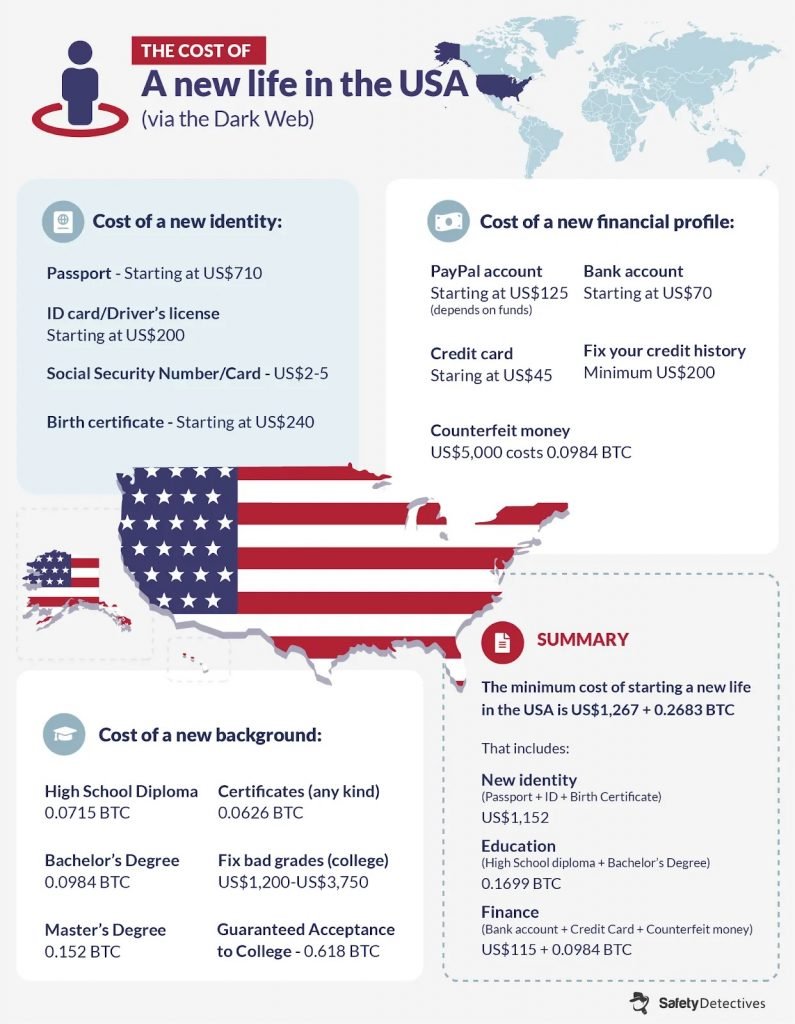 Social security cards are the primary identification document in the U.S., and their price ranges from $2 to $5 USD. Finally, for a fraction of Bitcoin (approximately 0.6 BTC), anyone can acquire a counterfeit college degree.
Your new identity will also require a bank account; Opening a new account on dark web costs about $70 USD, while buying a credit card or a new credit history requires about $200 USD. As we can see, acquiring a new identity in the U.S. is much more accessible than elsewhere.
European Union
As for the European Union, the minimum investment that requires a new identity on dark web starts from $1,370 USD (0.2593 BTC). On average a spoofed European passport costs just over $600 USD although it may vary depending on the country. On the other hand, a driver's license in the European Union can cost more than $300 USD, while a university certificate costs 0.1699 BTC.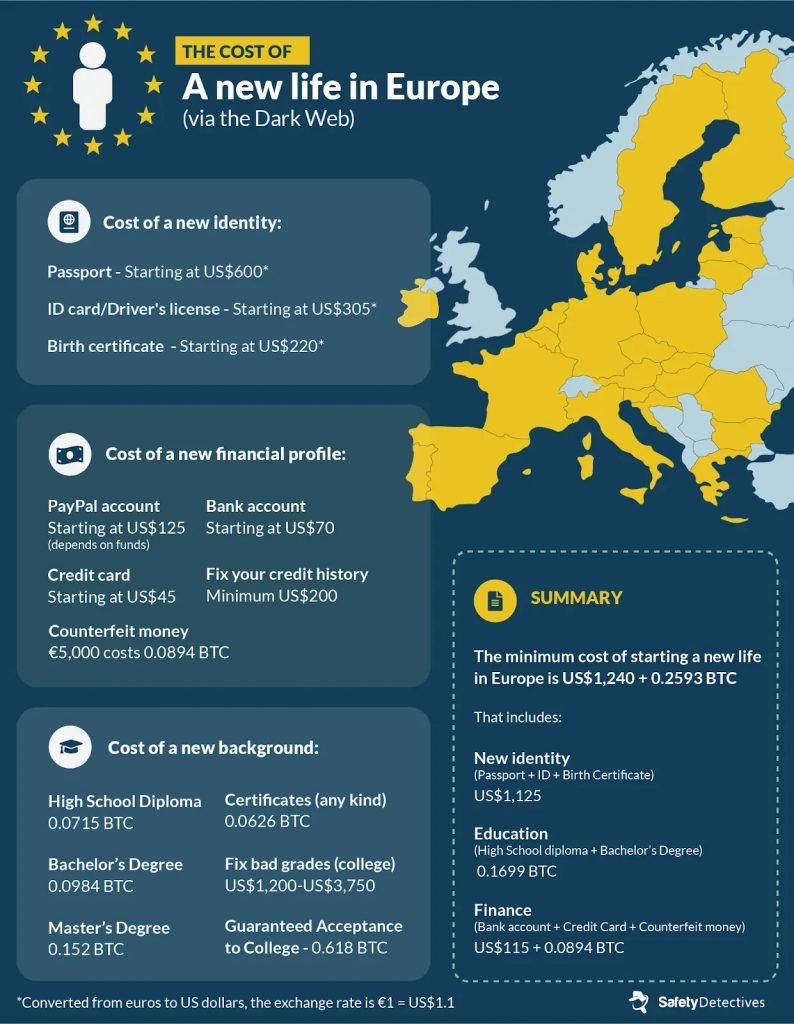 Users willing to pay for a new financial profile must invest around $300 USD to purchase new bank accounts, payment cards, and counterfeit credit histories.
Canada
According to researchers who are members of the hacking course, buying a new identity in Canada can cost more than $1,300 (0.2683 BTC). Purchasing a Canadian passport on dark web may be more accessible than in other parts of the world ($600 USD), however, a counterfeit Canadian driving license can cost more than $280 USD.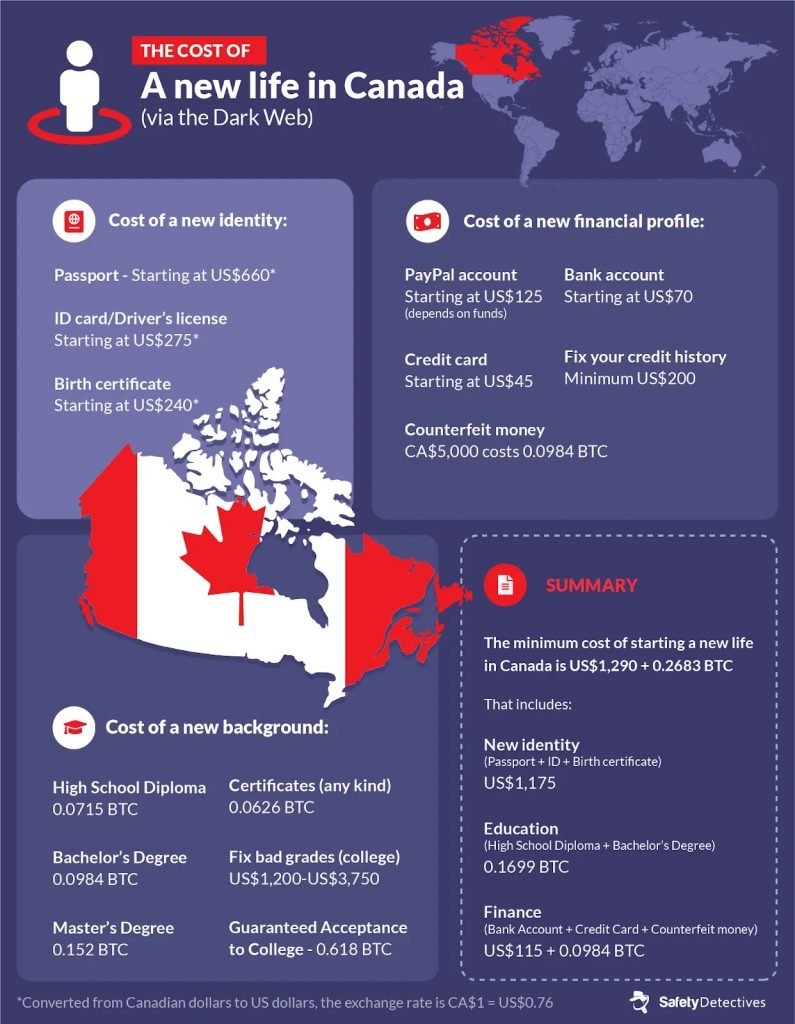 Regarding academic documents, a basic education diploma has a value starting at 0.0715 BTC, while a university diploma costs more than 0.0984 (almost $700 USD). In Canada there are also criminal groups that offer to illegally acquire admission to a university, services that cost 0.618 BTC.
United Kingdom
A new identity in the UK costs more than $1,300 on dark web (0.2861 BTC). Purchasing a fake passport in the UK costs more than $710 USD, almost the same cost that American passport. A counterfeit college diploma costs around $300 USD, while a British birth certificate costs more than $200 USD.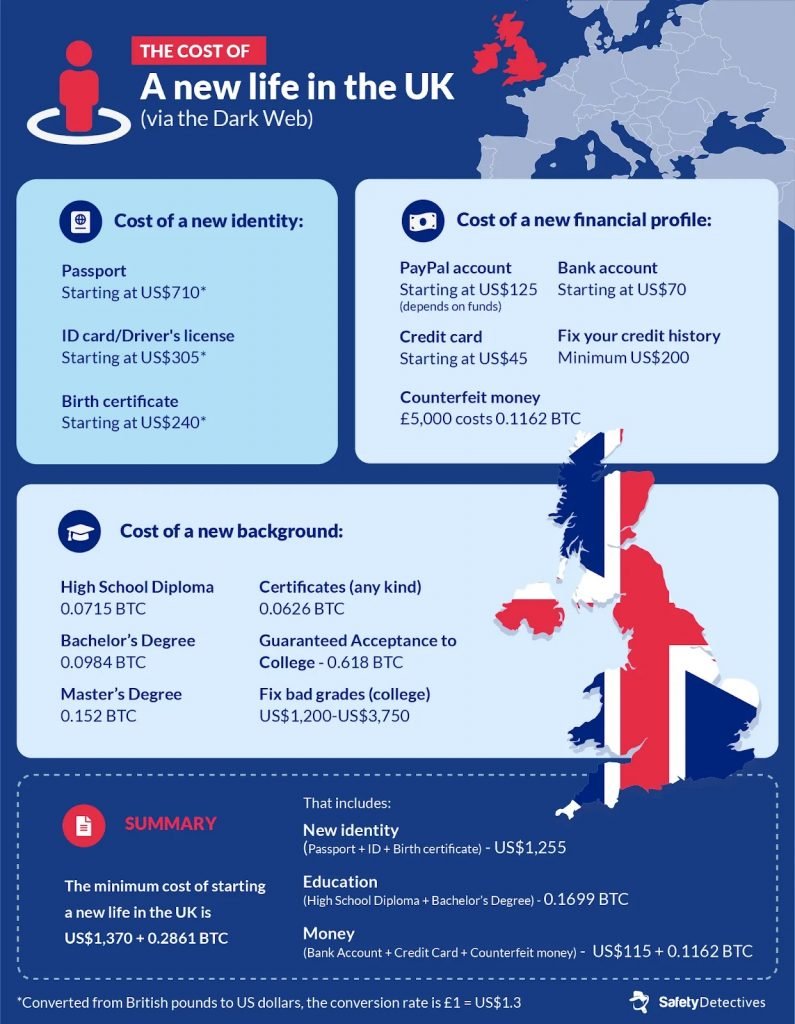 Interested parties can even buy counterfeit money at very low costs.
Australia
Of the cases analyzed by the experts of the hacking course, Australia is the most expensive country to buy a new identity via dark web (more than $1,400 USD, in addition to some Bitcoin transactions).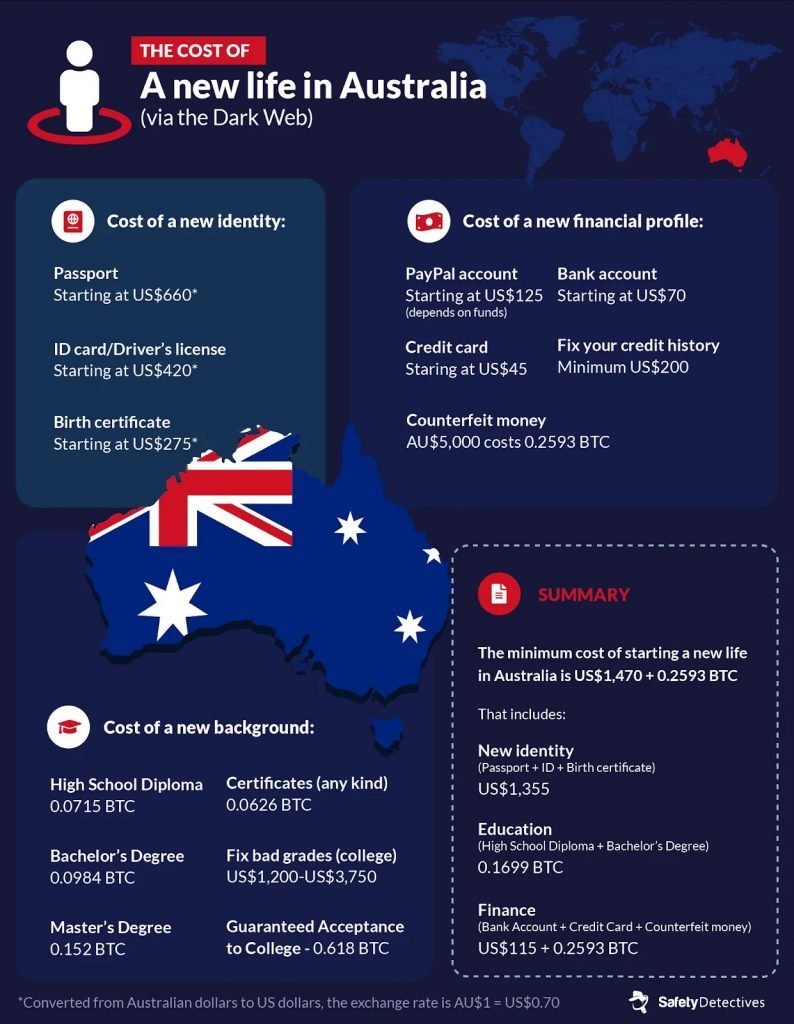 For starters, an Australian passport costs more than $660 USD, while a fake driver's license can reach prices of up to $420 USD. On the other hand, academic certificates in Australia can reach prices of up to 0.0715 BTC, while entering an Australian university could cost up to 0.618 BTC.
Finally, acquiring a new financial profile in Australia can cost more than AUS $5,000 (more than $3,000 USD).
As mentioned, many of these documents are forgeries, although the International Institute of Cyber Security (IICS) highlights that thousands of documents sold on dark web are authentic, in other words, it is information stolen from other users.
Hundreds of people suffer daily from the theft of their personal information, including payment card data, email addresses and social media data, not forgetting that millions of users completely ignore the security risks associated with exposing personal information.
Identity theft can have disastrous consequences for victims, so users are encouraged to stay on top of the information they post on social media and share with businesses, government institutions, and employers before a threat actor takes over their name.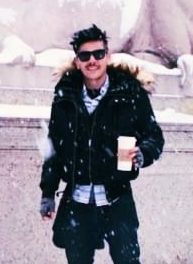 He is a well-known expert in mobile security and malware analysis. He studied Computer Science at NYU and started working as a cyber security analyst in 2003. He is actively working as an anti-malware expert. He also worked for security companies like Kaspersky Lab. His everyday job includes researching about new malware and cyber security incidents. Also he has deep level of knowledge in mobile security and mobile vulnerabilities.