Alert on massive fraud of cryptocurrencies in Twitter accounts, related to Covid-19. That successful scam has raised more than $ 50,000 at the moment, this consists of requesting money through legitimate twitter accounts promising to double this money. Users are strongly advised not to participate in these types of apparent opportunities, as they are generally fraud.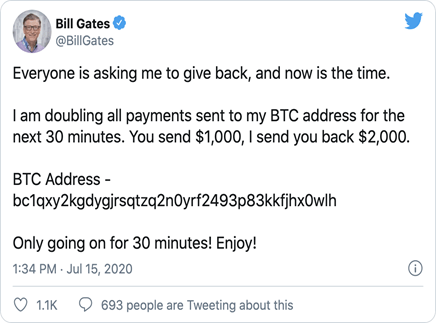 Apparently, several relevant Twitter accounts in the crypto space have been hacked in a coordinated mass attack, including trading platforms like @Coinbase, @Binance, @Gemini, @KuCoin, @Bitfinex, as well as CEOs and founders like @CZ_Binance, @JustinSunTron, @SatoshiLite, and crypto accounts like @TronFoundation, to promote a COVID-19 related crypto gift scam.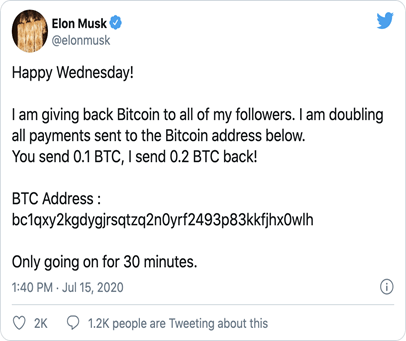 ¨The accounts tweeted that they "partnered with" a company called CryptoForHealth. The domain of this website was registered on July 15. The website itself claims to help in the difficult times of COVID-19, they are partnering with various trading platforms to provide a "5000 Bitcoin (BTC) gift" which is a trick to fraud.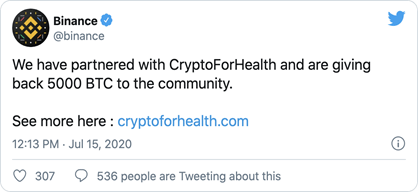 In separate but related attacks, the verified accounts of Bill Gates, Elon Musk, and Uber were also compromised to promote a cryptocurrency giveaway. His tweets used the same Bitcoin address that we observed on the CryptoForHealth site, indicating that it is likely to be a coordinated attack.
The hackers ask users to send between 0.1 BTC and 20 BTC to a designated Bitcoin address and that they will double the victims' money. This is a common scam that has persisted for a few years, where scammers will pose as notable cryptocurrency figures or individuals. However, what makes this incident more notable is that scammers have managed to compromise legitimate and relevant Twitter accounts to launch their scams. Because tweets originated from these verified accounts, the chances of users placing their trust on the CryptoForHealth website or on the supposed Bitcoin address is even higher. This is a fast-moving target and more than $ 50,000 has been received so far for the Bitcoin address listed on the CryptoForHealth website and in Elon and Bill Gates' tweets, "said Satnam Narang, research engineer. from Tenable.
"We highly recommend that users never participate in so-called gifts or opportunities that claim to double their cryptocurrencies because they are almost always a scam," Narang concluded.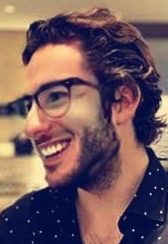 Information security specialist, currently working as risk infrastructure specialist & investigator.
15 years of experience in risk and control process, security audit support, business continuity design and support, workgroup management and information security standards.