In-flight aircraft monitoring is a very entertaining way to learn how to use tracking tools, information security experts from the International Institute of Cyber Security (IICS) mention. For doing so, there are multiple websites that will allow you to track flights on a map.
After reading this article, simply launch your mobile browser to start tracking the movements of any aircraft on a virtual map.
Before getting started, information security experts will show you a glossary to get acquainted with the topic. We will then address a list of the most popular tracking websites and end with a simple case study.
GLOSSARY
Callsign: Refers to an identifier assigned to an aircraft during the flight. While a private jet can use its registration number, commercial flights often have callsigns according to the route they travel. This identifier may change when the flight destination is modified and, in some exceptional cases, mid-trip.
In other words, the same aircraft can have multiple callsigns; it all depends on the routes you travel and the type of aircraft.
Registration number: This is the equivalent of a car plate in the aviation world. All registered aircraft receive an identifier, which usually begins with the first or first letters of the country where it is registered (C for Canada, F for France, etc.), although this information may change depending on the use given to an aircraft. You can find more information about the registration numbers of an aircraft on Wikipedia or any specialized platform.
Manufacturer Serial Number (MSN): This is a unique number that is assigned to each aircraft at the time of manufacture and, unlike the registration number, this data cannot be changed. The MSN of an aircraft is a fundamental aspect for its tracking, because regardless of the routes traveled, the country of manufacture or the owner, this data will accompany the aircraft throughout its useful life, as mentioned by information security experts.
ADS-B: These acronyms mean Dependent Automatic Surveillance-Broadcast, and refer to a technology used for the activities described in this article. Virtually any modern aircraft is equipped with ADS-B transmitters that send unencrypted information that can be tracked by any user with the necessary knowledge and tools.
The hardware and software required to receive ADS-B signals is relatively inexpensive, so this is not a practice considered complex.
All these concepts will help you better understand the tools and theory needed for in-flight aircraft tracking, although the focus on each indicator will depend on what you want to know about the aircraft. For example, if you want if an aircraft registered in the name of a specific person was in a certain place and time, the registration number will be very useful.
FLIGHT TRACKING WEBSITES
There are a wide variety of websites to track aircraft, all with various features that differentiate them from each other. Like any other open source platform, it is advisable to check several of the options available to determine which one will help us the most.
If there are no online records of the flight you are looking for, there may be no record of the aircraft. Remember that these websites are funded by various people, so if a flight is not available on one platform it is best to try your luck elsewhere. It should be noted that sometimes, for safety reasons, no information is recorded about some flights.
Most of these sites offer subscription plans for several price ranges including free access with limited information. Remember that if you choose to subscribe, additional information will be available to you.
This is one of the most popular websites of its kind. The site's interface is very easy to use and customizable, so information security experts consider it an excellent choice.
In addition to monitoring the current route of an aircraft, FlightRadar24 provides the ability to view flight history. This website also offers a repeat feature that allows you to view a specific segment of each flight. Below are the current rates on this website:
Basic subscription (free): Live flight tracking and flight history of the last 7 days
Silver subscription ($1.49 USD per month): more flight details and 90-day flight history
Gold Subscription ($3.99 USD per month): More detailed flight information and 365 days of flight history
Business Plan ($50 USD per month): A complete record of flight data worldwide, including 730 days of flight history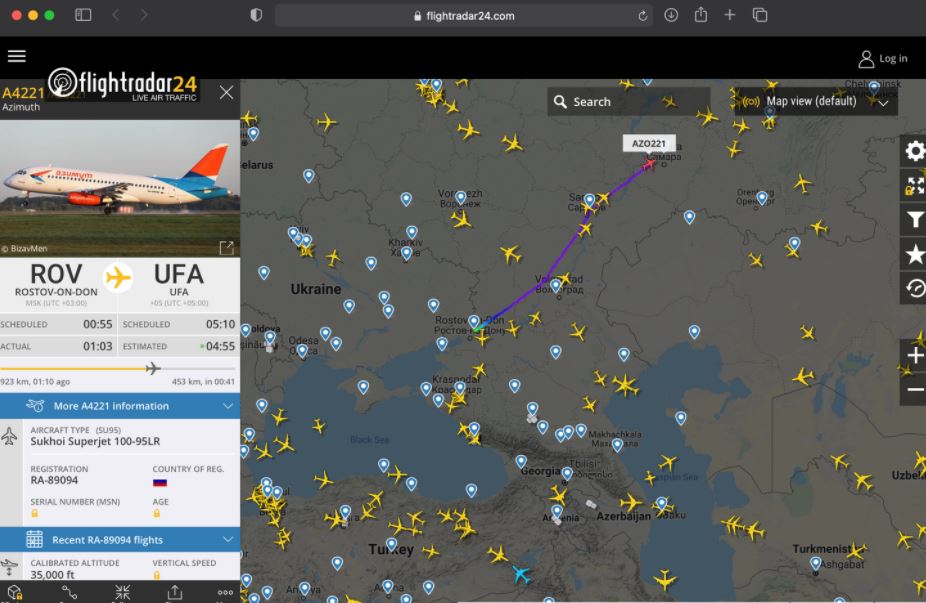 This site looks very similar to FlightRadar24, although there is a fundamental difference. Radar Box's default interface makes it easier to find more information, including data such as the airline's type logo, departure cities and arrivals, which can save you time in your research.
Below the information security experts show us the subscription levels on this platform:
Basic subscription (free): Flight tracking over the last week
Spotter Plan ($2.45 USD per month): mobile app access, more detailed flight information and flight history for the last month
Pilot Plan ($7.95 USD per month): A subscription designed for pilots and air traffic controllers that contains detailed information about any flight over the past 90 days
Business plan ($39.95 USD per month): includes the ability to track ship movements, as well as 365 days of flight history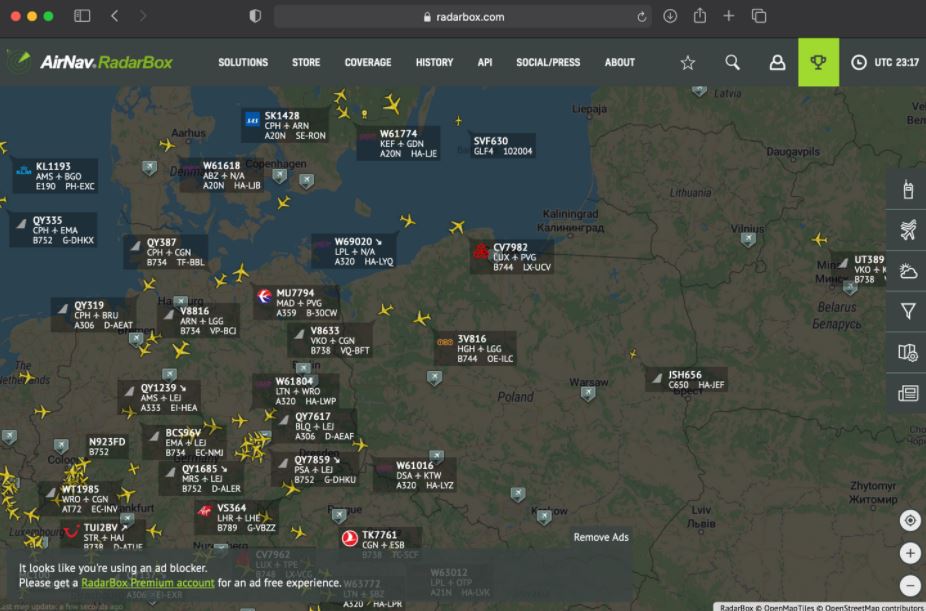 By hovering over an aircraft in the Radar Box interface, you'll get important details.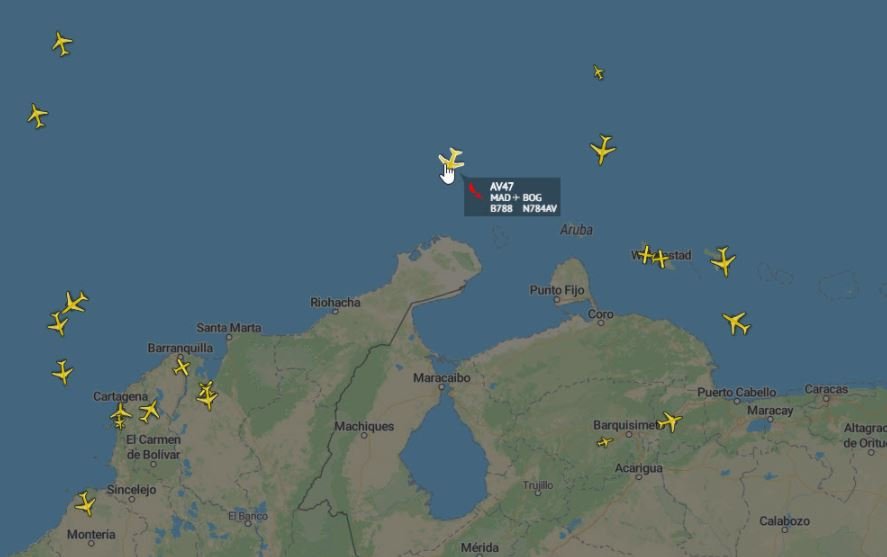 Flight Aware is the center of all commercial flights, including weather information about your destinations around the world and an airport map, all on the platform home page. According to information security experts, the site also has an RSS news channel, a message board and even a section for airplane photos.
As if that were not the case, this service allows us to receive notifications every time a target aircraft arrives or leaves an airport or if it undergoes any change of plans. Alerts are the best way to monitor a flight consistently and passively.
Basic subscription (free): Registrations of the last three months and up to five notifications via email
Premium+ ($39.95 USD per month): Records of the last five months of flight history, unlimited email notifications, and additional map viewing options
Enterprise ($89.95 per month): Flight logs in the last eight months and ad-free
Enterprise WX ($129.95 usd per month): Eight months of registration, weather and additional aircraft information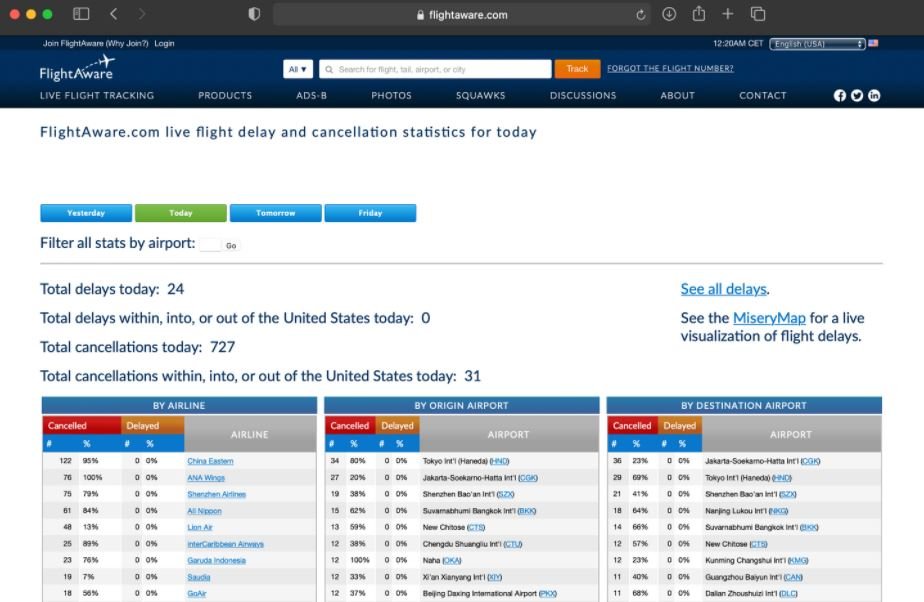 As you can see, the tool even displays information about delayed or cancelled flights.
This is a gigantic aircraft database that also includes a list of recently cancelled flights. Plane Finder also has a feature to review airspace fragments at a specific time, information security experts mention.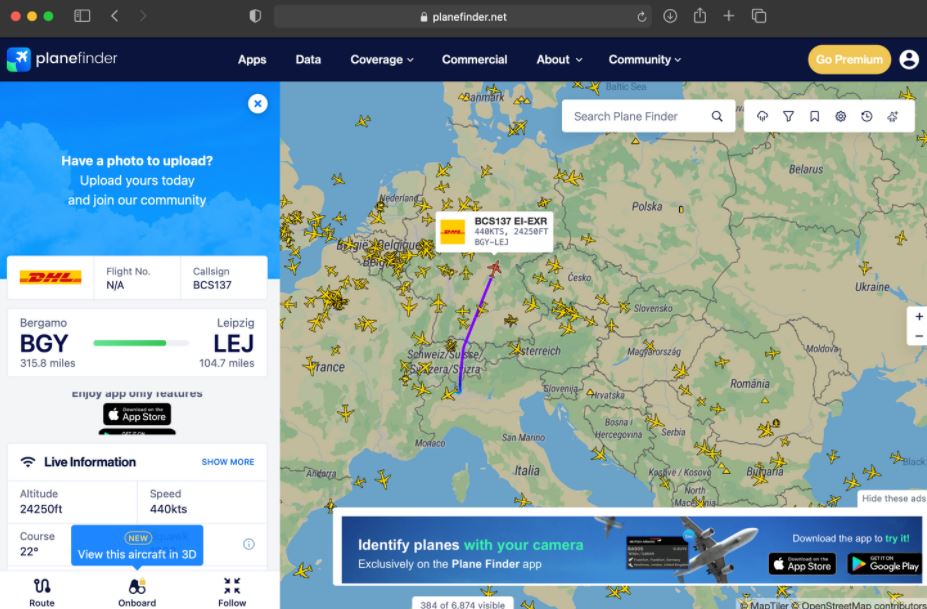 This service has only two subscription tiers:
Free subscription: Real-time flight tracking and limited access to flight history
Paid subscription ($1.99 USD per month): 365 days of flight history
ADS-B Exchange is an amateur project for amateurs, so this site does not have subscription plans and all the information stored on its systems is available without restrictions to all its users. Operators also do not delete records on the website unless they are sued by users or companies.
The real-time map (located below the Global View tab on the home page) provides a useful filtering feature that only displays military aircraft, except for a few exceptions.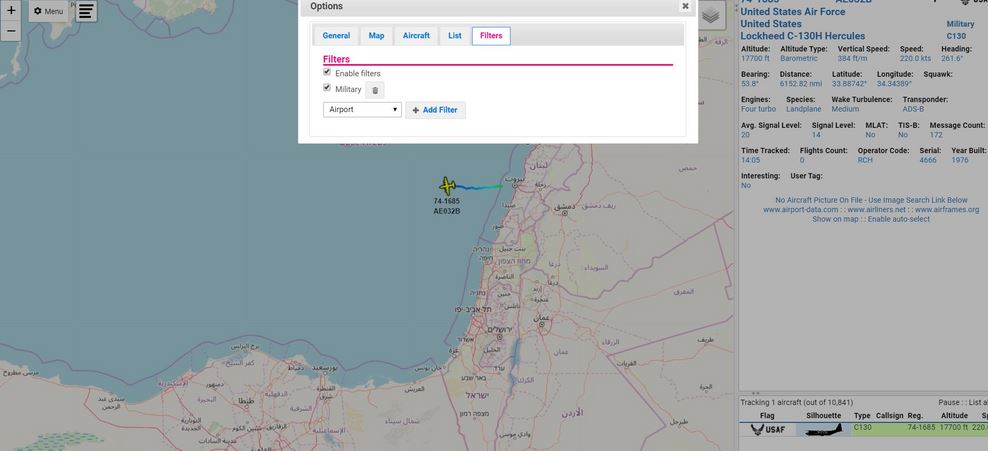 According to the information security experts, to filter the map and show only military aircraft, simply click the Menu button in the upper left corner of the map in real time. Then go to the Filters tab and select Military from the drop-down menu to finally choose Enable Filters. In the example shown below, a Lockheed C-130H Hercules aircraft is being tracked over the Eastern Mediterranean.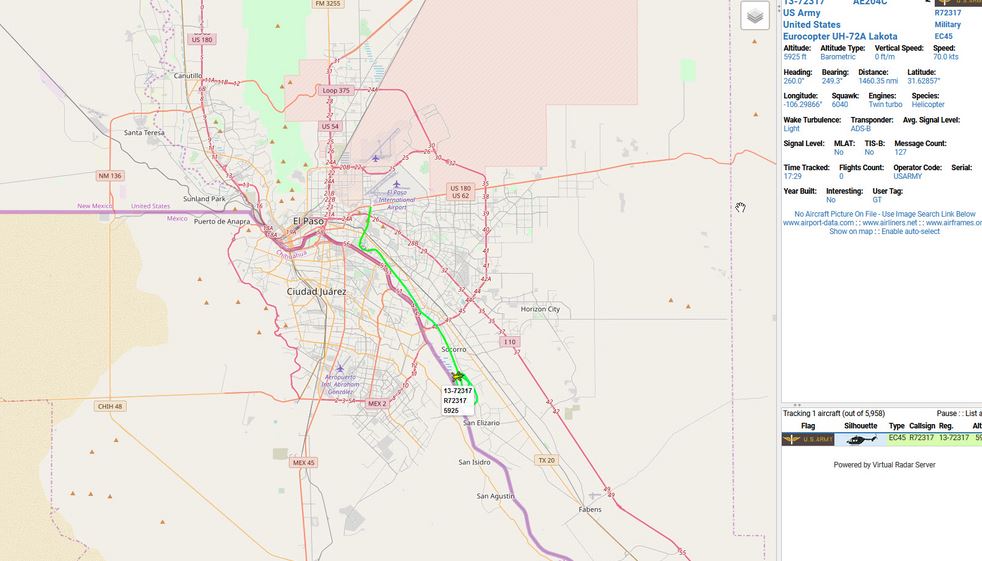 ADS-B Exchange also tracks some military aircraft. In this case, a UH-72A Lakota helicopter is being tracked as it flies near the Mexican border south of El Paso, Texas.
USE TWITTER AND OTHER PLATFORMS TO FILL GAPS
Sometimes there are simply no flight logs we're looking for, so experts turn to any website with airplane photos to determine your current location. Some Twitter users pay close attention to the planes they see, either on tracking sites or on the ground. To find information about a plane on Twitter, all you have to do is type your registration number into the search, which will yield any post associated with this data.
In the following image we see Aeromexico flight AM646, en route from Mexico City to Los Angeles. The photo shows that the aircraft registration number is XA-ADH.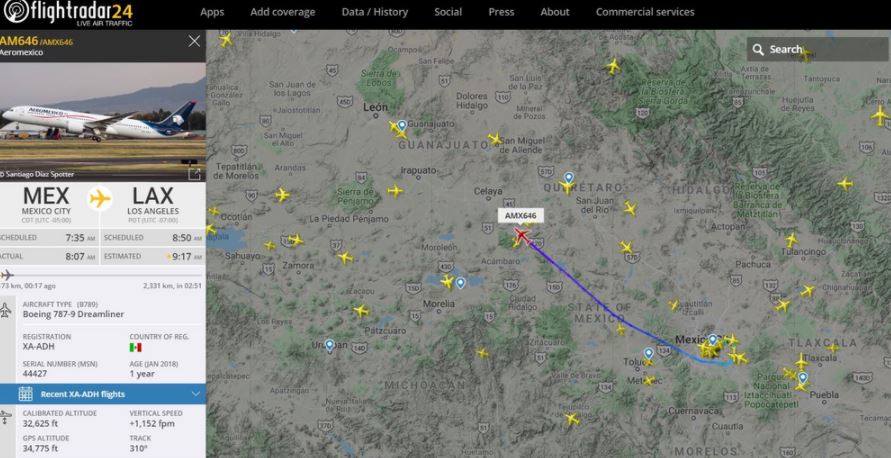 Twitter, Facebook, Instagram or any other social media platform can be of great help to supplement the information we want to collect about an aircraft, although there are websites with a more specific interest.
Small platforms like www.jetphotos.com, www.planespotters.net and www.airliners.net allow fans to share photos of all kinds of aircraft and nurture larger platform databases.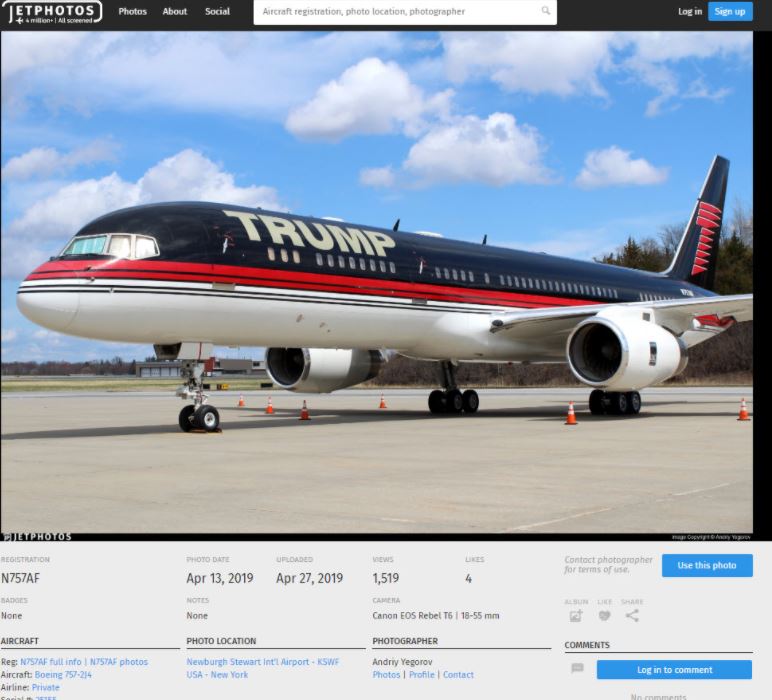 The screenshot above shows a photo of Trump Force One (N575AF) in jetphotos.com with multiple data on current aircraft activity.
CASE STUDY VENEZUELA'S GOVERNMENT'S SECRET PLANE
On August 10, 2019, former Colombian President Andrés Pastrana posted on Twitter that he was traveling on a plane belonging to Nicolas Maduro, president of Venezuela, bound for Cuba to transport Colombian military leaders. Although there was no information on this flight in open sources, multiple tracking sites were able to confirm the existence of this aircraft, information security experts mention.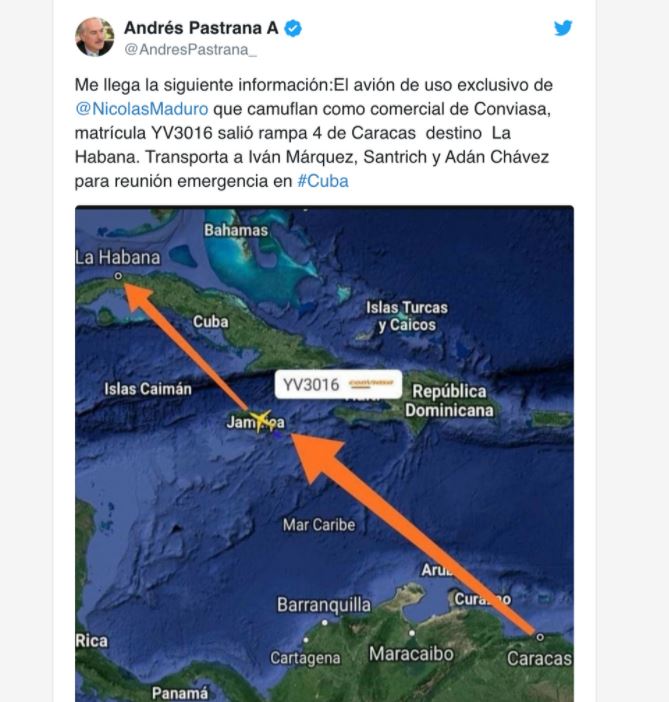 In his tweet, Pastrana mentioned that the aircraft had the registration number YV3016. This data was enough to track your route on any of the platforms described above. In this case FlightRadar24 was used. To search for YV3016, simply type your registration number in the search bar at the top left of the screen.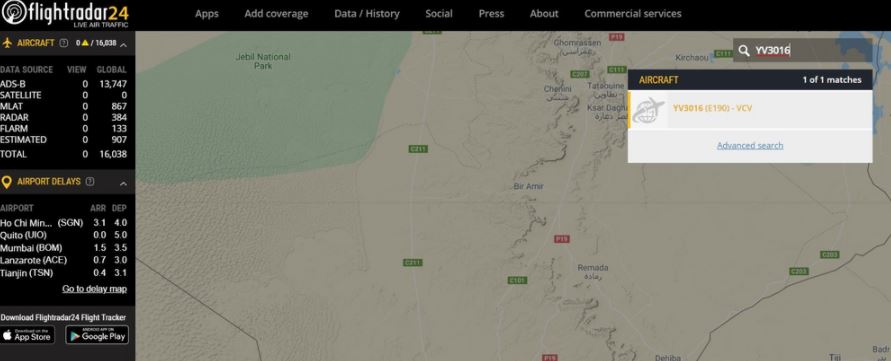 The website informs us that there are flight history records for this aircraft. Now let's look at what Flight Radar 24 tells us about the YV3016:

When searching for the registration number in FlightRadar24 shows us photographs of the YV3016, the company that operates the aircraft, and its model (Embraer Lineage 1000).
The website mentions that YV3016 belongs to Conviasa, Venezuela's state commercial airline. The images show that the live terrace of the aircraft (the aviation term for an aircraft painting scheme) is the live terrace of a Conviasa aircraft.
The flight history is even more revealing. For example, we see that the YV3016 flew from Caracas to Moscow on May 5; from Moscow to Istanbul on May 6 and finally from Istanbul to Caracas on May 7. Needless to say, the Conviasa website does not contain such registrations and the airline does not have such routes. On the other hand, we may use sites such as JetPhotos.com and PlaneSpotter.com to verify that Conviasa aircraft have been detected at points where the airline does not reach, including Las Palmas, The Hague and Geneva.

Finally, the YV3016 information page in FlightRadar24 contains another important detail: this aircraft is an Embraer Lineage 1000, a luxury business jet, which could indicate that important Venezuelan government officials use this aircraft to travel undetected.
CONCLUSION
All this is possible thanks to the large amount of information publicly available on the Internet. In addition, even the cheapest subscription plans (or free sites) offer multiple resources to those interested in aviation monitoring. Remember that this material was developed for teaching purposes, so IICS researchers and experts are not responsible for the misuse that may occur to these platforms.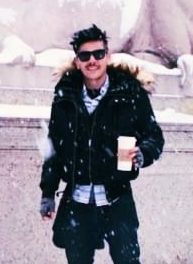 He is a well-known expert in mobile security and malware analysis. He studied Computer Science at NYU and started working as a cyber security analyst in 2003. He is actively working as an anti-malware expert. He also worked for security companies like Kaspersky Lab. His everyday job includes researching about new malware and cyber security incidents. Also he has deep level of knowledge in mobile security and mobile vulnerabilities.