Today, a federal district court in San Diego issued an order mandating the distribution of over $17 million in restitution funds to approximately 800 victims hailing from over 40 different countries as compensation for the investment losses they sustained as a result of their participation in the massive cryptocurrency investment scheme known as BitConnect. This scheme defrauded thousands of investors all over the world.
On September 16, 2021, Glenn Arcaro, 44 years old, the leading BitConnect marketer headquartered in the United States, entered a guilty plea to the charge of conspiracy to conduct wire fraud. In a separate development, on February 25, 2022, Satish Kumbhani, the creator of BitConnect, was charged with his pivotal involvement in the scam that included several billions of dollars.
Arcaro admitted as part of his guilty plea that he and others had conspired to take advantage of investor interest in cryptocurrencies by fraudulently marketing BitConnect's initial coin offering and digital currency exchange as a lucrative investment. This admission was made in connection with Arcaro's guilty plea. In order to defraud investors, Arcaro and his cohorts spread false information concerning BitConnect's "Lending Program." Arcaro claimed that BitConnect's alleged proprietary technology, which he referred to as the "BitConnect Trading Bot" and the "Volatility Software," was able to generate substantial profits and guaranteed returns through the use of investors' funds to trade on the volatility of cryptocurrency exchange markets. This program was offered under the auspices of the BitConnect Investment Program.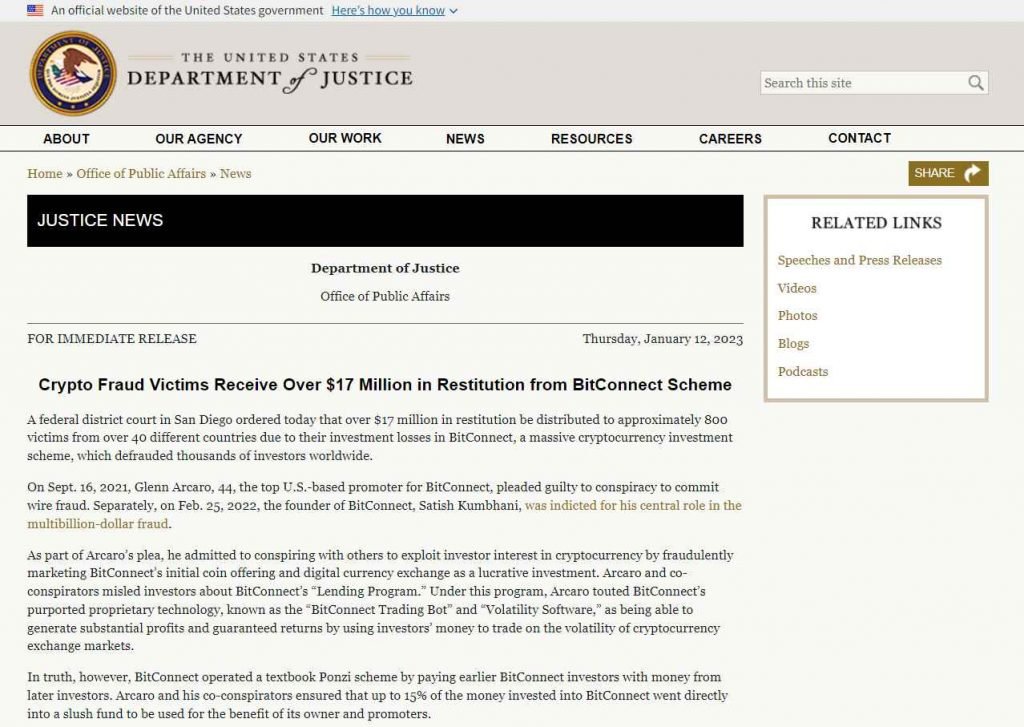 However, in reality, BitConnect ran a classic Ponzi scam by compensating early BitConnect investors with money from investors who joined later. Arcaro and his other conspirators made certain that up to fifteen percent of the money that was invested in BitConnect was funneled straight into a slush fund, where it would be utilized for the advantage of the company's owner and promoters.
However, the $17 million sum that was cited in court the week before last falls well short of the $56 million in restitution that was announced by the Department of Justice in November 2021. It's possible that this reflects the recent precipitous drop in the price of cryptocurrencies.
It is also a far lower amount than the $2.4 billion that is said to have been stolen from investors by BitConnect.
After reportedly pocketing as much as $24 million from the BitConnect slush fund, the main promoter of the company, Glenn Arcaro, 44, entered a guilty plea in September 2021 to a charge of conspiracy to conduct wire fraud. Glenn Arcaro was charged with the offense.
However, his employer and the creator of the organization, Satish Kumbhani, has not yet been located. According to reports, he has departed his country of origin, India. In February 2022, a grand jury in the United States returned an indictment against Kumbhani charging him with conspiracy to commit wire fraud, wire fraud, conspiracy to commit commodity price manipulation, operation of an unlicensed money transmitting business, and conspiracy to commit international money laundering.
Should he be proven guilty, he may spend up to seventy years in prison at the most.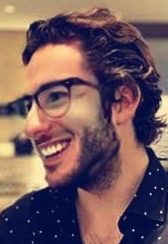 Information security specialist, currently working as risk infrastructure specialist & investigator.
15 years of experience in risk and control process, security audit support, business continuity design and support, workgroup management and information security standards.