Hackers who allegedly infiltrated the Federal Reserve Bangladesh's account were attempting to steal almost $1 billion, but typos thwarted the plan.
This week the principal news agencies shared the news of the hack of the Bangladesh account at the Federal Reserve Bank of New York.
The Bangladesh's Finance Minister Abul Maal Abdul Muhith accused the U.S. Federal Reserve of the theft of at least $81 million stolen from the Bangladesh's account. The Government of the Bangladesh is threatening the US for a legal fight to retrieve the funds, explained Muhith in a press conference held in Dhaka on Tuesday.
The central bank of Bangladesh declared the funds had been stolen from an account by hackers, the experts had traced some of the missing funds in the Philippines.
In reality the hackers tried to steal much more, they tried to complete dozens of transfers for an overall amount of $850 million.
The disaster was avoided by accident because the bank's security systems and typos in some requests allowed the identification of the theft attempts, investigators discovered that hackers failed 35 transfer attempts.
"$81 million was transferred from the Federal Reserve Bank to Filipino accounts while attempts to claim $850 million were foiled by the Federal Reserve Bank's security system," Razee Hassan, deputy governor of Bangladesh Bank, told AFP.
"Attempts to transfer money to Sri Lanka by the hackers were foiled as their transfer requests contained typos," he added.
The hackers exploited gaps in communication between banks at weekends, the operation started on a Friday because the Bangladesh Bank is closed, on the following days, Saturday and Sunday, the Fed Bank in New York was being closed.
The choice of the Philippines as the landing country for the bank transfers was not casual, banks were also closed on the Monday due to the Chinese New Year.
While the central bank of Bangladesh is blaming Chinese hackers, the Fed is denying the security breach of security took place.
On Monday, a spokeswoman for the US Federal Reserve Bank of New York confirmed there was no evidence of a security breach, neither that the Bangladesh Bank account had been hacked.
Currently, the US Fed and the Bangladesh Government are still investigating the incident.
The Federal Reserve Bank of New York wrote still continues to deny any evidence of attempts to hack into the Federal Reserve systems:
The Federal Reserve Bank of New York wrote still continues to deny any evidence of attempts to hack into the Federal Reserve systems: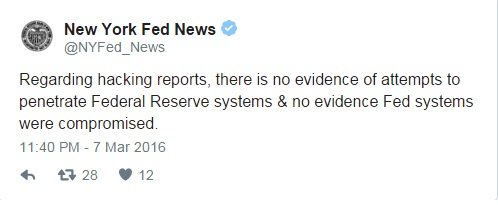 Source:https://securityaffairs.co/

Working as a cyber security solutions architect, Alisa focuses on application and network security. Before joining us she held a cyber security researcher positions within a variety of cyber security start-ups. She also experience in different industry domains like finance, healthcare and consumer products.