Face recognition based touchless office entry, The future of the workplace is rapidly changing as companies and businesses prepare to reopen and welcome employees back to the office. New protocols will be put in place to increase safety and security and a large focus will be on executing social distancing, rigorous disinfection and cleaning, and adopting new technologies. As an investor and entrepreneur, the landscape will most definitely be different.
Investing in the Post-COVID-19 World
For one thing, the post-COVID-19 recovery will be slow and not an economic immediate turnaround. In Wuhan where the lockdown restrictions were eased last month, the recovery has been painfully slow. Many stores are still shut. Business owners are struggling with zero profits and huge rents. It may take months, if not longer, for the city to recover.
In the U.S., a recent Goldman Sachs survey found that 50% of the small businesses surveyed didn't think they could continue to operate their business beyond three months under the ongoing restrictions.
Can you find investment opportunities in a business outlook like that? It's a million dollar question and the answer is yes.
3 Best Sectors for Investment in the Post Pandemic World
In crises like the COVID-19 pandemic, old kings fall and new heroes rise. According to the World Economic Forum, sectors like tourism, travel, and hospitality will be the worst hit by the pandemic. Meanwhile, sectors like ecommerce and digital business, gaming and entertainment, VR and AR, healthcare technologies, and "contactless" services are being seen as potential winners in the post-COVID-19 environment.
Let's look at 3 of the best investment opportunities in the new age of business and workplace.
Touchless Office Technologies
Access control is moving toward touchless technology to help secure offices and workplaces in a post-pandemic world. The CDC advises to limit shared surfaces to decrease the spread of viruses and germs. High touch surfaces like fingerprint scanners and pin pads as well as plastic key cards are contributing to the problem.
Companies such as Swiftlane are using face recognition in tandem with mobile access control to offer secure office access solutions. When employees return to work, accessing doors and points of entry safely is critical. Touchless office access systems are likely to become a huge investment opportunity post COVID-19.
Cleaning Services and Materials
The CDC recently released updated guidelines about COVID-19 Employer Information for Office Buildings. Office building employers, building owners and managers, and building operations specialists can take steps to create a safe and healthy workplace and protect workers and clients. The CDC recommends the following:
Create a COVID-19 workplace health and safety plan
Before resuming business operations, check the building to see if it's ready for occupancy
Identify where and how workers might be exposed to COVID-19 at work by conducting a thorough hazard assessment of the workplace
Develop hazard controls using the hierarchy of controls to reduce transmission among workers.
With so much emphasis on diligent cleaning protocols, janitorial service companies are facing explosive demand. An industry that grew at a modest 1.7% annually since 2014 suddenly saw the job openings spike by 75% in March compared to a year earlier.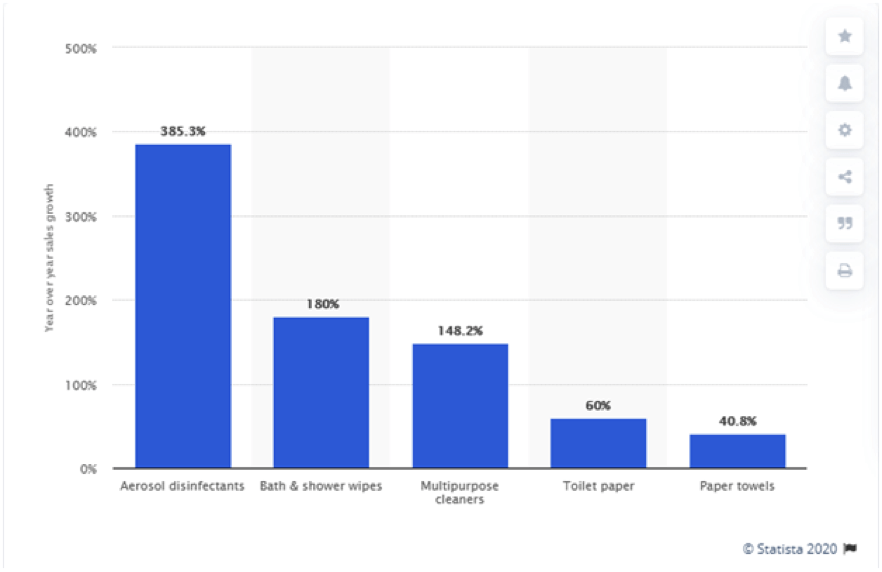 Source: Statista
Along with cleaning services, the demand for WHO, OSHA and EPA compliant disinfectants is also going through the roof. The US sales of aerosol disinfectants grew by more than 385% in March, followed by bath and shower wipes (180%), multipurpose cleaners (148.2%), and (of course) toilet paper (60%).
Remote working solutions such as Zoom and Slack are already on a roll since the lockdown began. Zoom said daily users shot up to 200 million in March, up from 10 million in December. Zoom is not alone. Cisco Webex, Microsoft Teams, and Google Hangouts and Meet have all seen a huge surge in usage. As more and more people start working from home, we may expect to see 5G PCs grow in popularity because of their high bandwidth and low latency.
And we're barely scratching the surface here. The technologies that are being forecast to experience accelerated growth as a result of COVID-19 include hybrid and multi cloud, 5G and smart cities, edge IoT, computer vision, supercomputing and quantum, virtual desktop infrastructure (VDI), and SaaS apps.
Finally, the pandemic is shifting manufacturing away from China into new industrial hotspots that may include South America, Canada, Malaysia, Indonesia, and even India. That's a lot of different sectors and unlimited business opportunity.
Conclusion
As the world anticipates the end to the lockdown, old businesses are struggling while those in the hottest sectors are already gearing up to meet the demand and embrace the new norms of business and workplace. Like always, the prize will go to those who are well prepared for the future.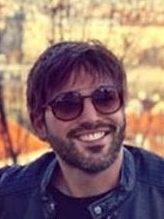 Cyber Security Researcher. Information security specialist, currently working as risk infrastructure specialist & investigator. He is a cyber-security researcher with over 25 years of experience. He has served with the Intelligence Agency as a Senior Intelligence Officer. He has also worked with Google and Citrix in development of cyber security solutions. He has aided the government and many federal agencies in thwarting many cyber crimes. He has been writing for us in his free time since last 5 years.