Many of the most heinous crimes recently reported have been carried out by individuals connected through illegal forums on the dark web, so it might be thought that these websites allow all kinds of questionable activities in different ways.
While the dark web is a fundamental tool for many criminal groups, this does not mean that everything is valid on these sites, as most clandestine forums are subject to some operating rules and codes of conduct to which users and sellers will have to adhere without exceptions, so cybersecurity experts of iicybersecurity have drawn up a list of the most important rules to follow on these platforms.
Because many of these sites share great similarities (sale of controlled drugs, malware and other tools for fraudulent activities), it is easier to list the prohibited things in each forum, detailed information below.
WHITE HOUSE MARKET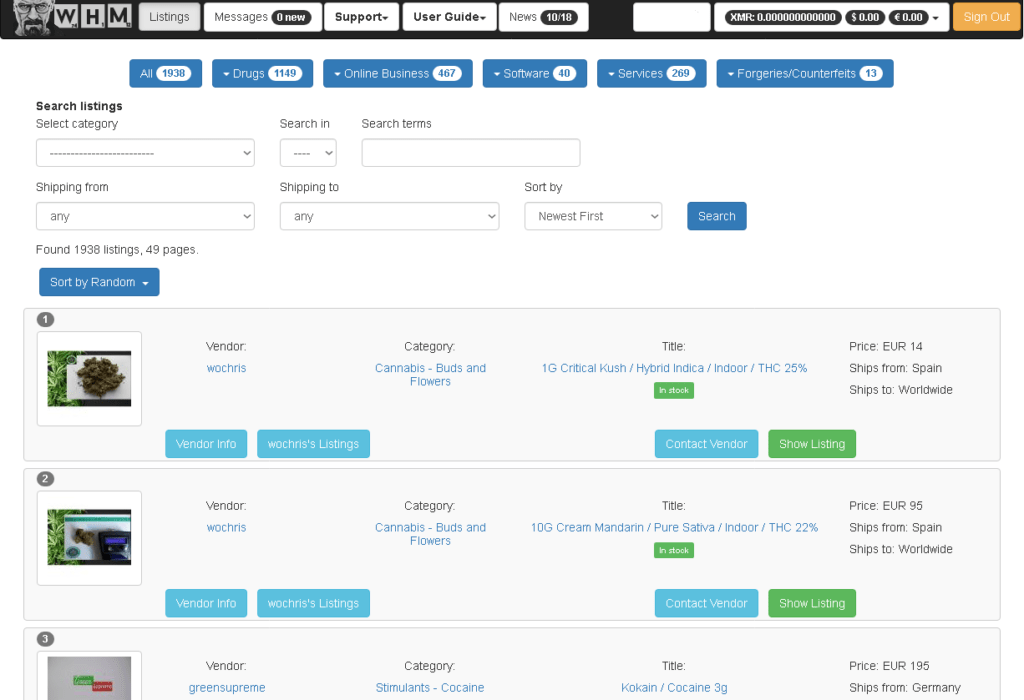 76p5k6gw25l5jpy7ombo2m7gt4zppowbz47sizvlzkigvnyhhc26znyd.onion
White House Market has become one of the most well-known illegal platforms on the dark web and is especially strict with its users, who must follow multiple rules set by site controllers, for example:
The sale or publication of child or animal pornography is prohibited
For-hire hitman services are not allowed
Human or animal exploitation is prohibited
No terrorism-related products, services or propaganda.
Arms are not allowed to be sold (this includes low-lethal weaponry such as rubber bullets), explosives or poisons
It is forbidden to publish tutorials to "get rich quickly"
Fentanyl or similar chemicals are prohibited
The sale of anything that administrators may find unacceptable is prohibited
MONOPOLY MARKET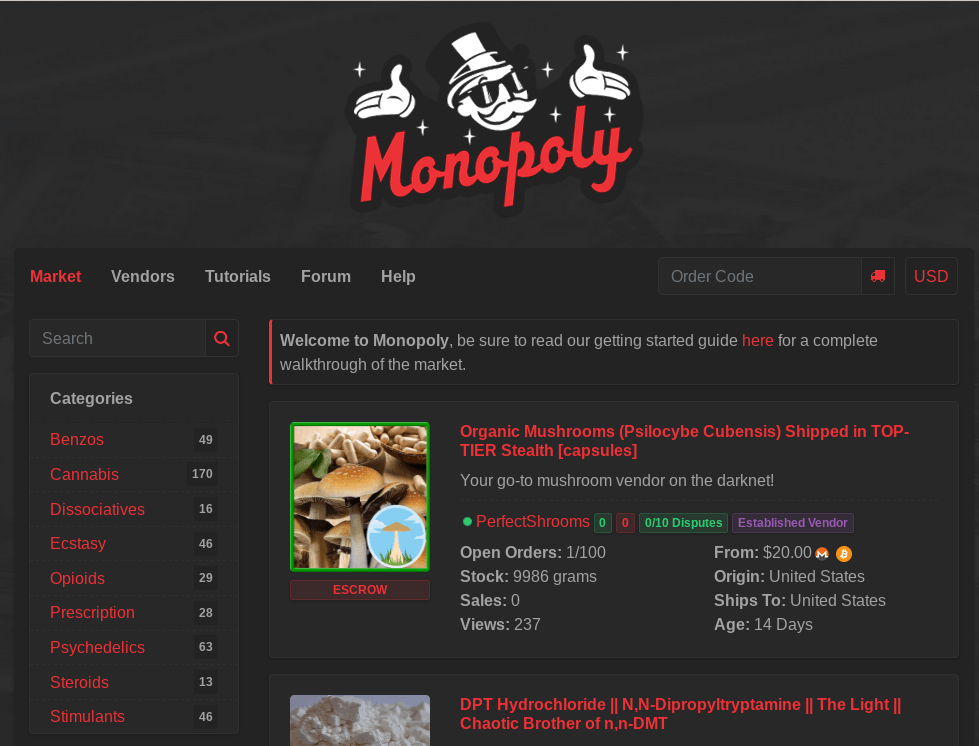 monopolyberbucxu.onion
Although the operators of this website do not explicitly mention a list of prohibited products, in practice this platform serves only for the sale of drugs that require a prescription and some opioids.
Monopoly Market has also implemented a control where all transactions must be approved by an administrator before being completed.
DARKMARKET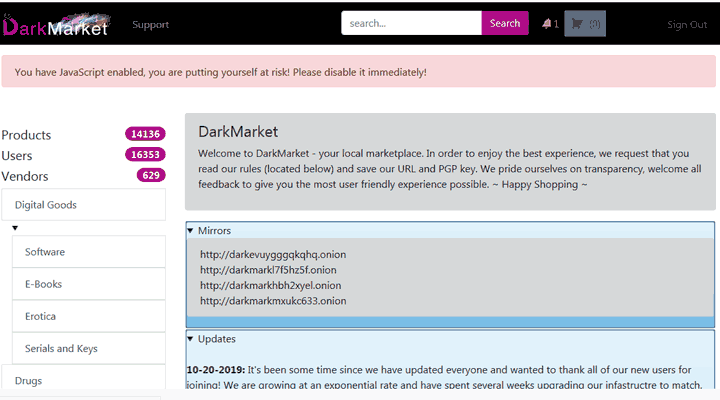 darkevuygggqkqhq.onion
This clandestine forum has a list of prohibited items mentioned in its regulations, including:
Murder on pay or other violent crimes
Fentanyl, carfentanyl or any similar synthetic product any synthetic analog equivalent
Non-lethal weapons
Explosives, precursors or any chemical used for the same purposes
Child, animal or violent pornography
Any activity related to human trafficking
Organs or parts of the human or animal body, in addition to the sale of any animal, whether it is alive or dead
This platform has also taken a proactive stance against the dispersion of hate speech or any form of discrimination.
VERSUS MARKET
pqqmr3p3tppwqvvapi6fa7jowrehgd36ct6lzr26qqormaqvh6gt4jyd.onion
This is probably the platform with clearer rules about what can be done and what is forbidden. In its regulations, Versus Market operators state that:
Pornography is prohibited in any of its variants, including pedophilia, bestiality or torture
The sale of weapons or dangerous substances of any kind is not allowed, including semi-automatic weapons, explosives, knives, poisons, acids, nuclear or biological weapons, harmful gases or similar toxins and weapons of mass destruction. Exceptions can be made with non-lethal weapons, decorative weapons, deactivated for aesthetic purposes, antiques and counterfeits
Doxxing (searching for an individual's personal information on the Internet for malicious purposes) is prohibited. Blackmail, extortion and similar practices are also prohibited
SQUARE MARKET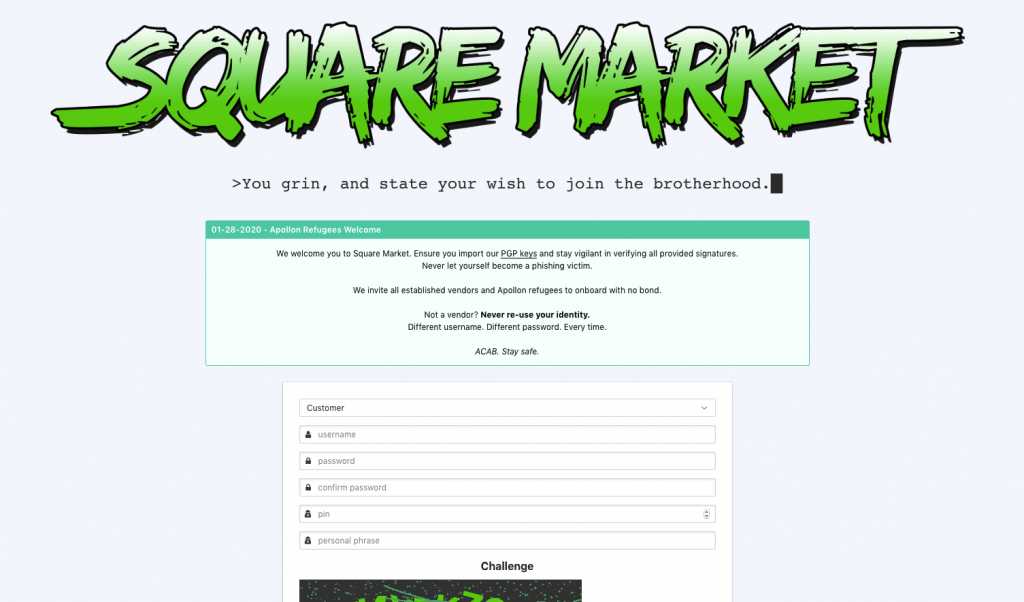 c77yo2fe3f4e3g7tll5qrzzoneymihws2tpjceg6wop2ky6pkcaqczyd.onion
Although this platform has been closed for maintenance for a while and at the moment it is not possible to access its regulations, Square Market adheres to rules similar to those mentioned above.
DEEPSEA MARKET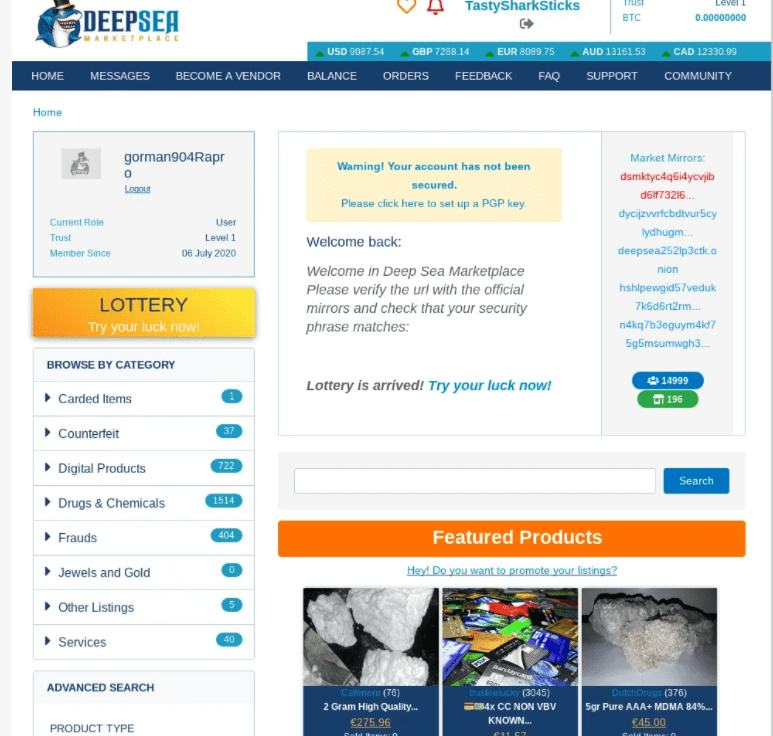 deepsea252lp3ctk.onion
Among the things prohibited by the operators of this website are:
Child pornography or any child abuse material
Guides to making money with Bitcoin
Accounts dedicated to any type of pornography
Payman services
Sale of fentanyl or any related substance
CANNAZON MARKET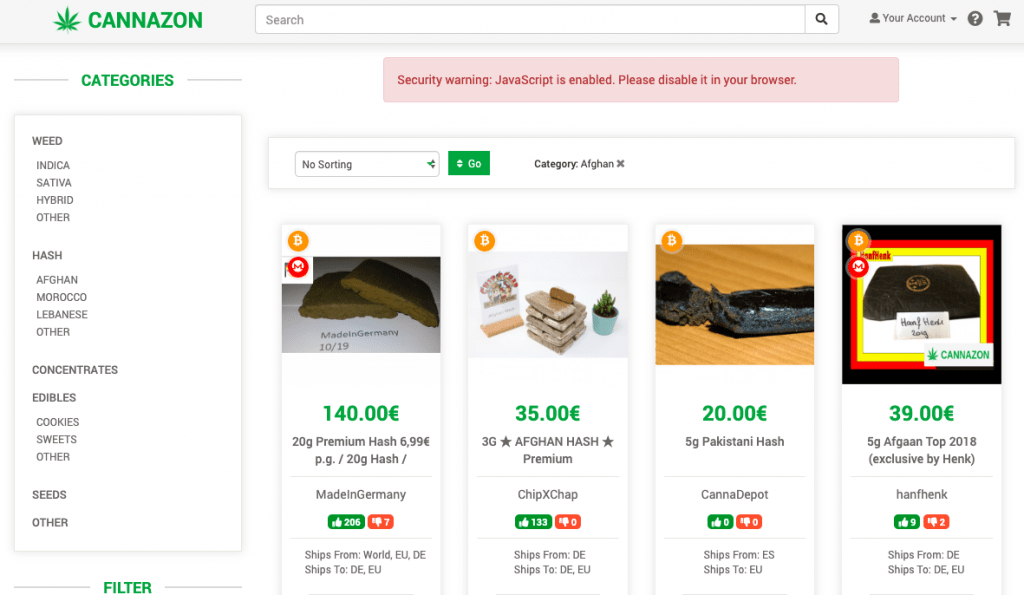 cannazon4gbjluus.onion
This website is specifically dedicated to any article related to cannabis, it goes without saying that the sale of any other type of addictive substance is prohibited. The publication of products related to child or animal pornography, arms sales, explosives or any type of weaponry is also prohibited.
VICE CITY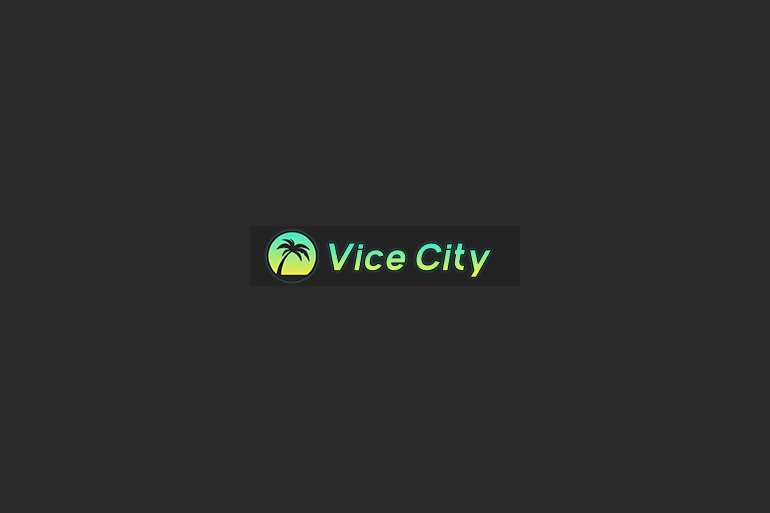 vice2e3gr3pmaikukidllstulxvkb7a247gkguihzvyk3gqwdpolqead.onion
In its regulations, Vice City operators prohibit the sale of:
Weapons and explosives
Murder for hire services
Fentanyl and any similar substances
Stolen data including information about anyone under the age of 21
Doxxing services
Pornography of any kind
TORREZ MARKET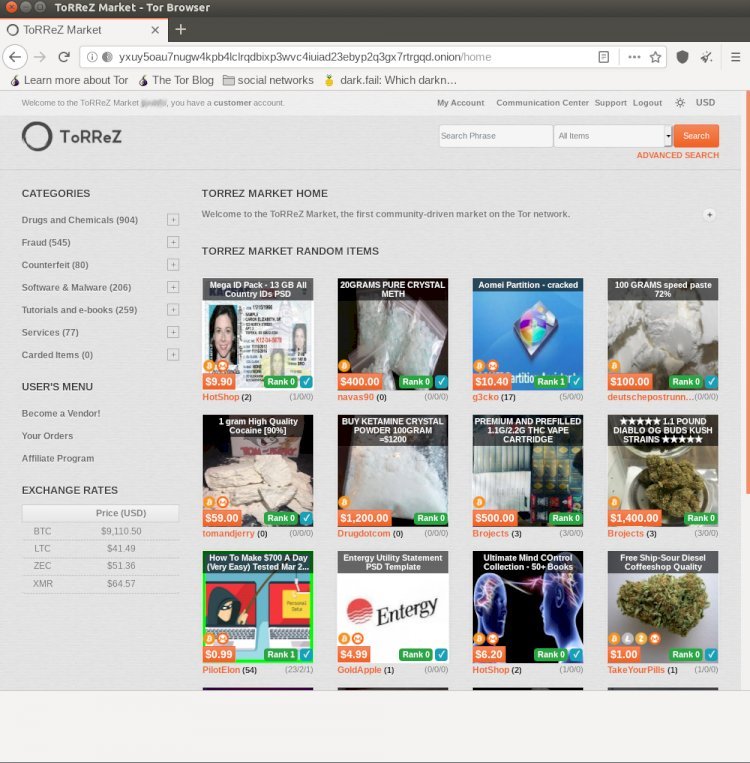 yxuy5oau7nugw4kpb4lclrqdbixp3wvc4iuiad23ebyp2q3gx7rtrgqd.onion
In its FAQ section, the operators of this dark website list the following items as prohibited:
Child pornography or any resource that may lead to its obtaining.
Sale of any item related to the sale of human beings or their parts
Sale of fentanyl and similar substances
Sale of weapons, explosives or any similar item
In addition, all transactions on the site must be carried out by means of a cryptocurrency agreed by those involved.
CANNAHOME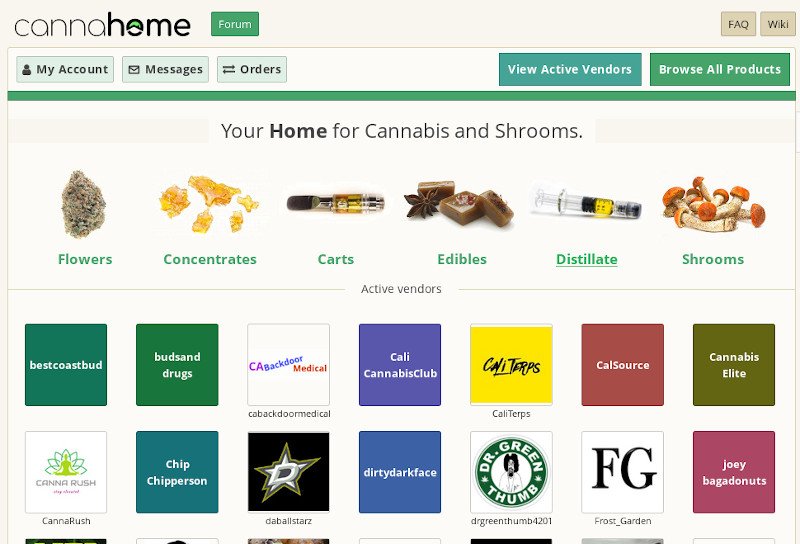 cannahomeffiw2ca.onion
This is a forum specifically dedicated to the sale of products derived from cannabis and some fungi, so any other activity is prohibited.
CYPHER MARKET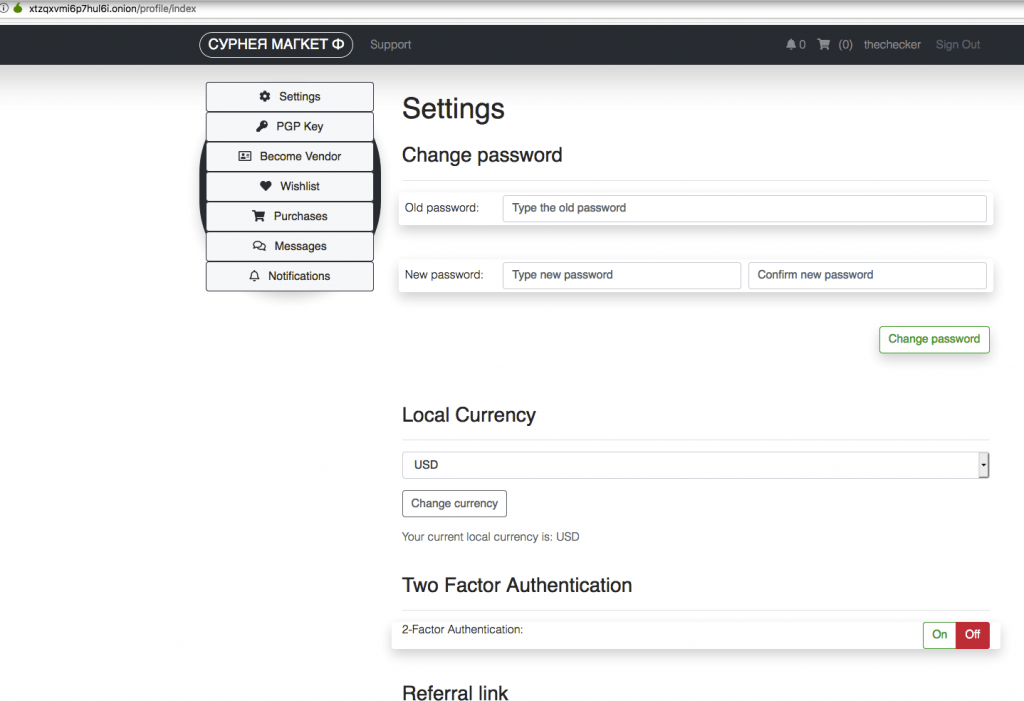 jcnhui6sgumsawtd.onion
Among the rules listed on this platform are:
Any contact outside Cypher Market is prohibited. Wickr and other forms of communication are prohibited
Selling weapons, explosives, fentanyl and the like is prohibited
DARK0DE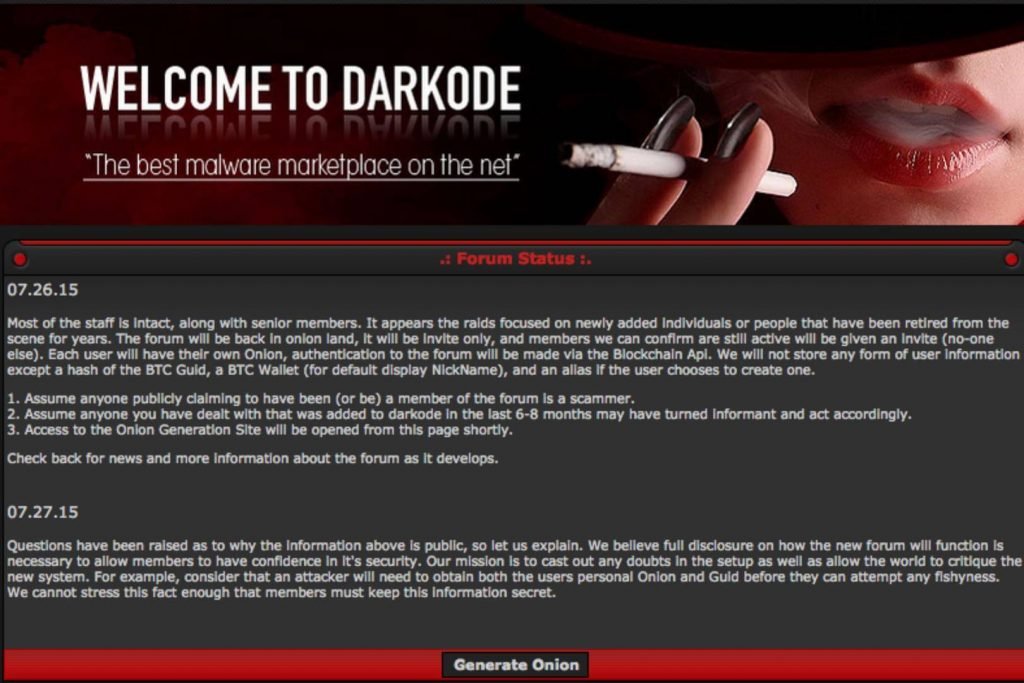 darkodevasbv5yof.onion
In addition to listing prohibited items, Dark0de also mentions some of the penalties faced by users who violate its regulations, for example: "Violation of any of our rules will result in account cancellation, payment forfeiture, and restriction of any Dark0de activity."
YELLOW BRICK MARKET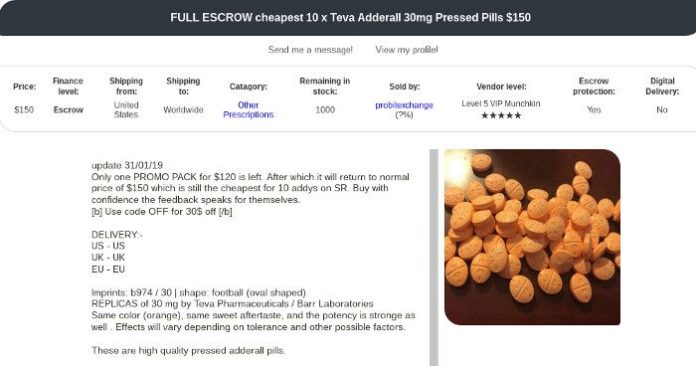 ck73ugjvx5a4wkhsmrfvwhlrq7evceovbsb7tvaxilpahybdokbyqcqd.onion
Users of this site will find a list of prohibited items even before logging in, including:
Poisons, explosives or weapons
Terrorism-related items
Child pornography or any other illegal material
Sale of information
Yellow Brick Market also prohibits its users from sharing any contact information outside the platform, as well as making some behavioral recommendations.
TOR MARKET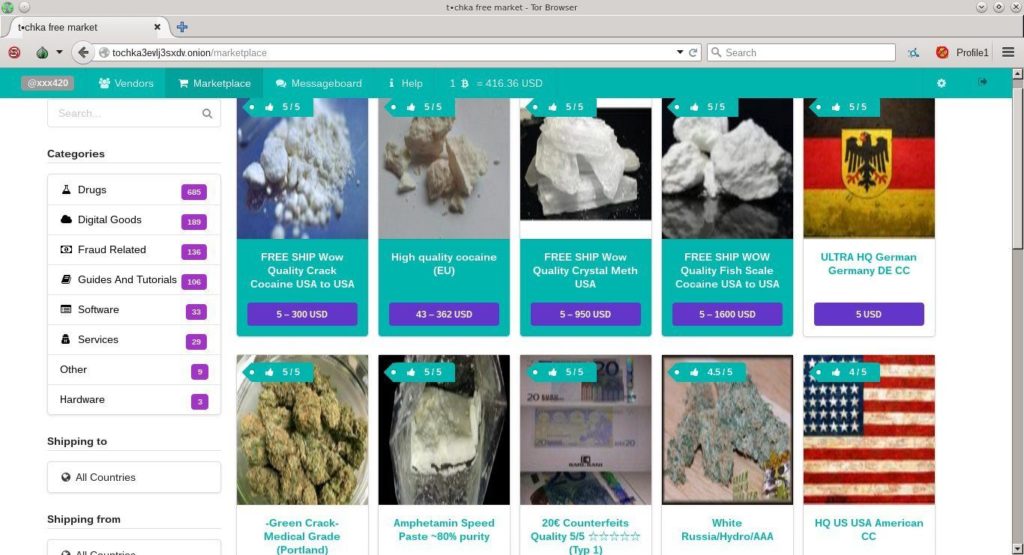 rrlm2f22lpqgfhyydqkxxzv6snwo5qvc2krjt2q557l7z4te7fsvhbid.onion
This platform also sets out some bans for users and sellers:
Drug and any related paraphernalia sale only
Forbidden the sale of fentanyl
Prohibited from posing as other sellers
Contact information must be encrypted
DAEVA MARKET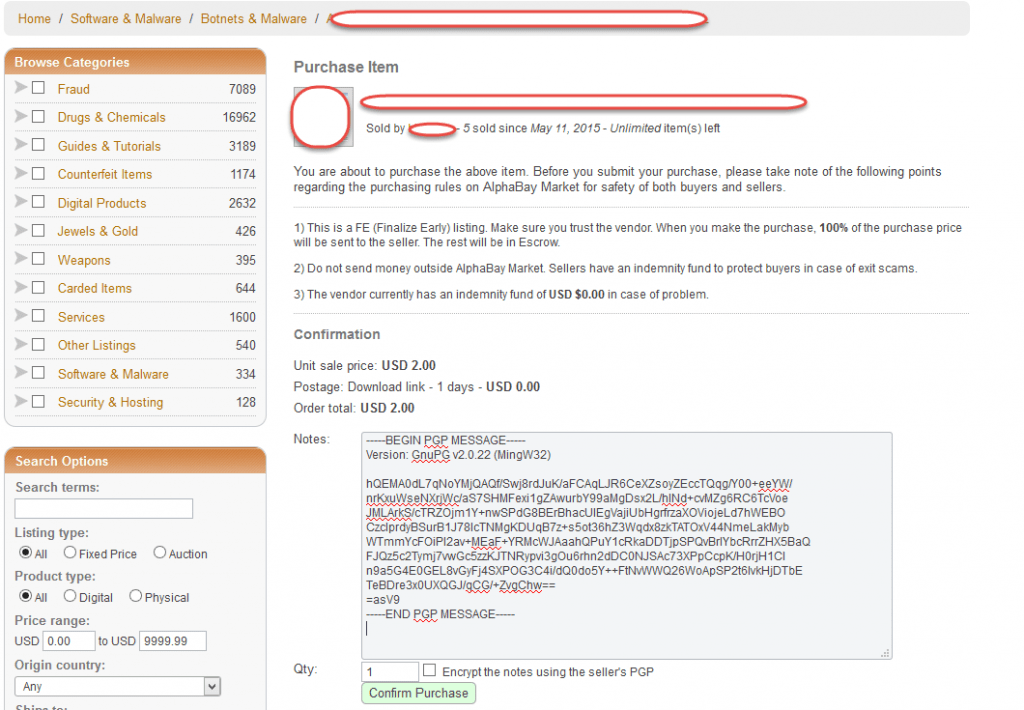 77o4j55bt7e53jrso2nuaumj24cory5weaqv7zypbptkxhdfgaxgfvyd.onion
This forum also has some specific rules for buying and selling some products:
Child pornography is prohibited
The sale of weapons is prohibited
Blackmail practices are not allowed
No human trafficking
The sale of fentanyl and similar substances is prohibited
ASEAN MARKET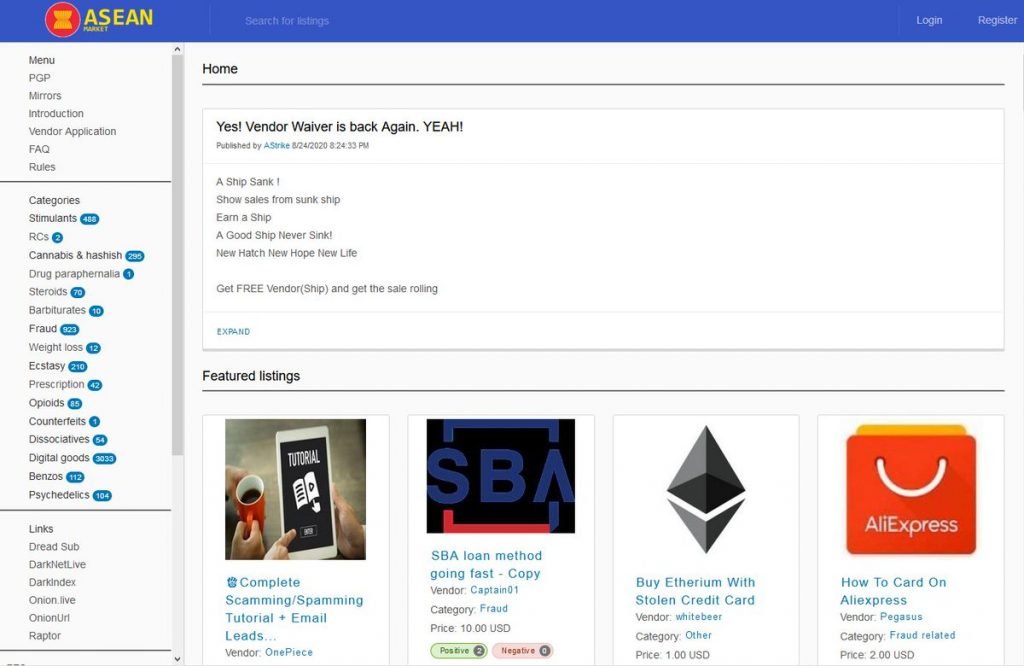 aseanm2r6znqjuackec6j7yiauyq4fcvghmskixd4xqbkvdos6eu6qyd.onion
ASEAN Market operators set similar restrictions, so users of this platform are prohibited from offering services of murder on wages, sale of child pornography, chemical weapons, explosives, poisons and sale of live or dead animals.
CANADIAN HEADQUARTERS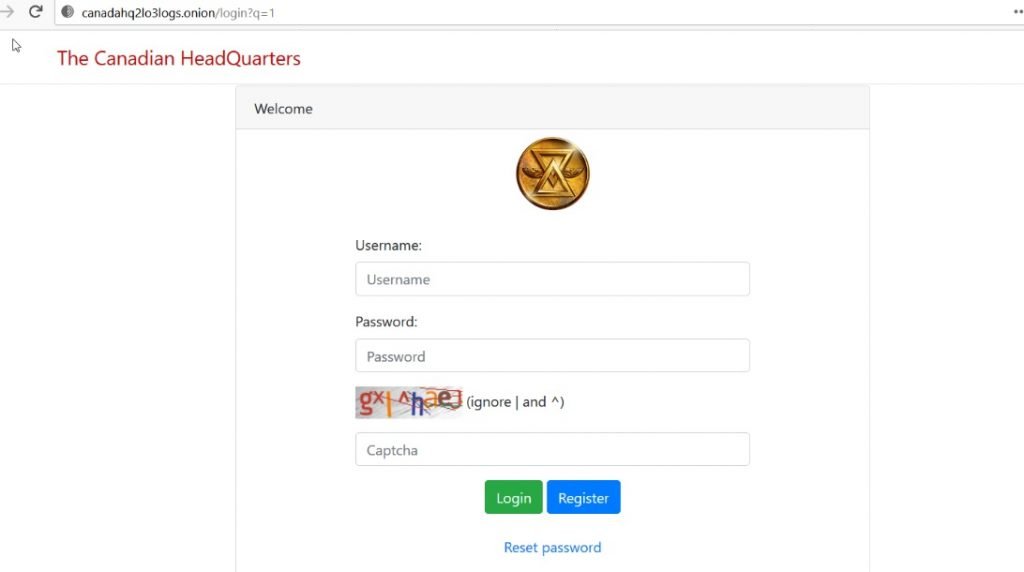 canadahq2lo3logs.onion
The operating rules of this forum focus on sellers and are intended to prevent fraudulent activity. Sellers at Canadian Headquarters are prohibited from selling:
Fentanyl
Poisons
Murder services for hire
Firearms
Videos of minors
DARKFOX MARKET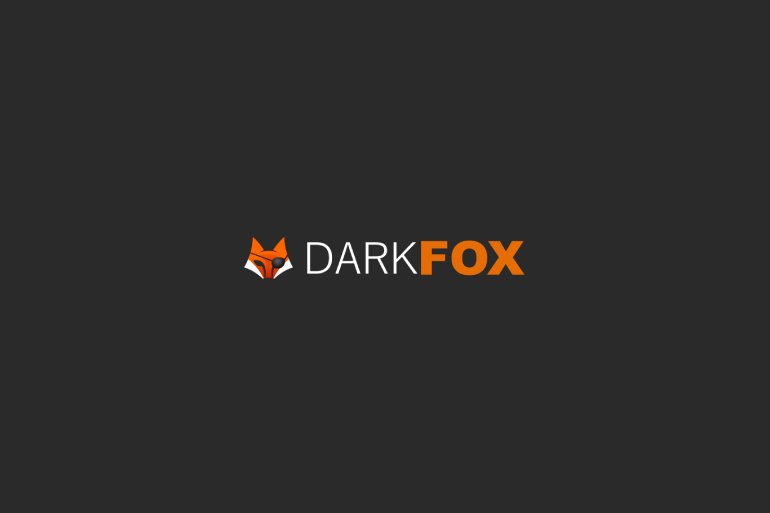 57d5j6hfzfpsfev6c7f5ltney5xahudevvttfmw4lrtkt42iqdrkxmqd.onion
DarkFox Market specializes in the sale of medicines, digital developments and even articles related to fraud practices. Its rules mention that:
It is forbidden to advertise other platforms
Do not create duplicate auctions. Multiple identical auctions are not allowed
Child pornography banned
FLUGSVAMP 3.0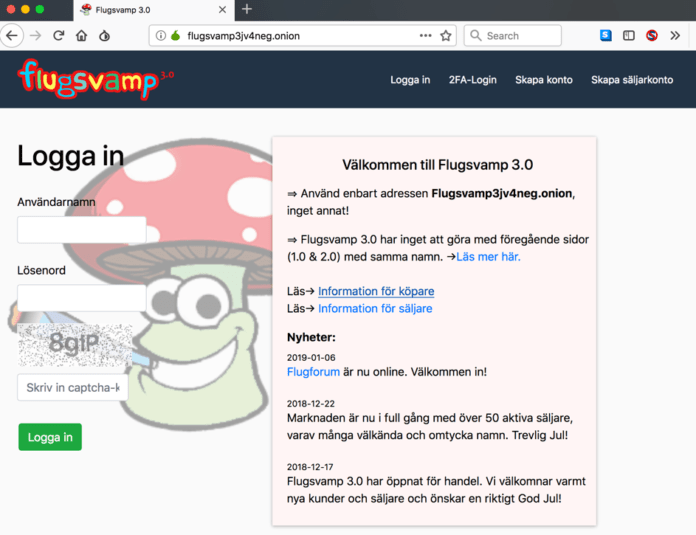 Flugsvamp3jv4neg.onion
This platform also does not have an official list of prohibited items, although in practice it is only engaged in the sale of cannabis products and some psychedelic substances, so there is virtually no sale of prohibited products by other platforms.
HYDRA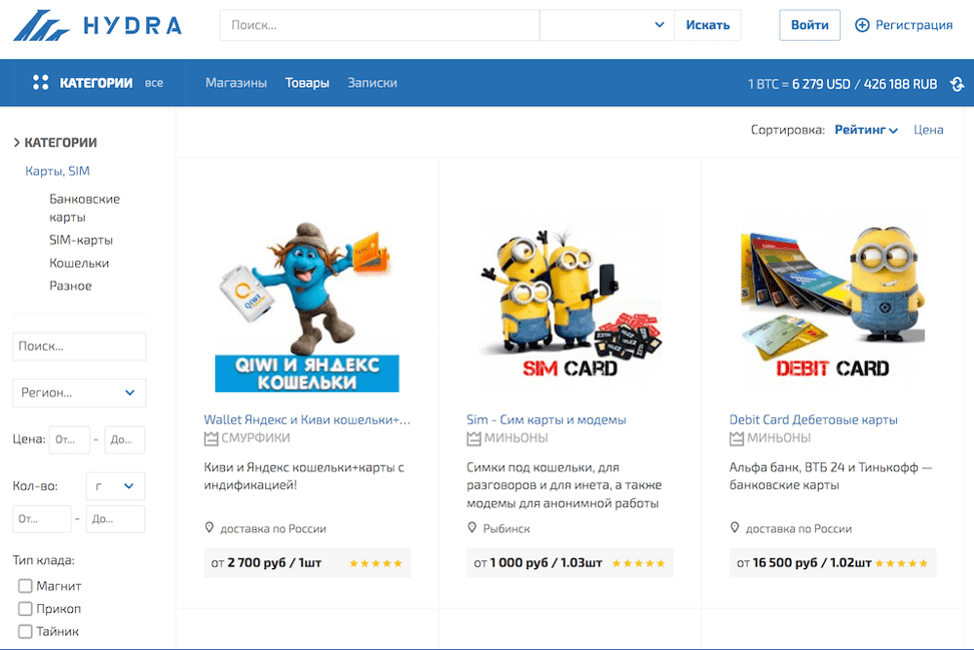 hydraruzxpnew4af.onion
This is a clandestine platform of Russian origin that has multiple rules among which are:
It is strictly forbidden to sell products considered a threat to life, including weapons, poisons, hit murder services, explosives or any tool to deploy cyberattacks
It is forbidden to disclose users' personal data without their consent
MEGA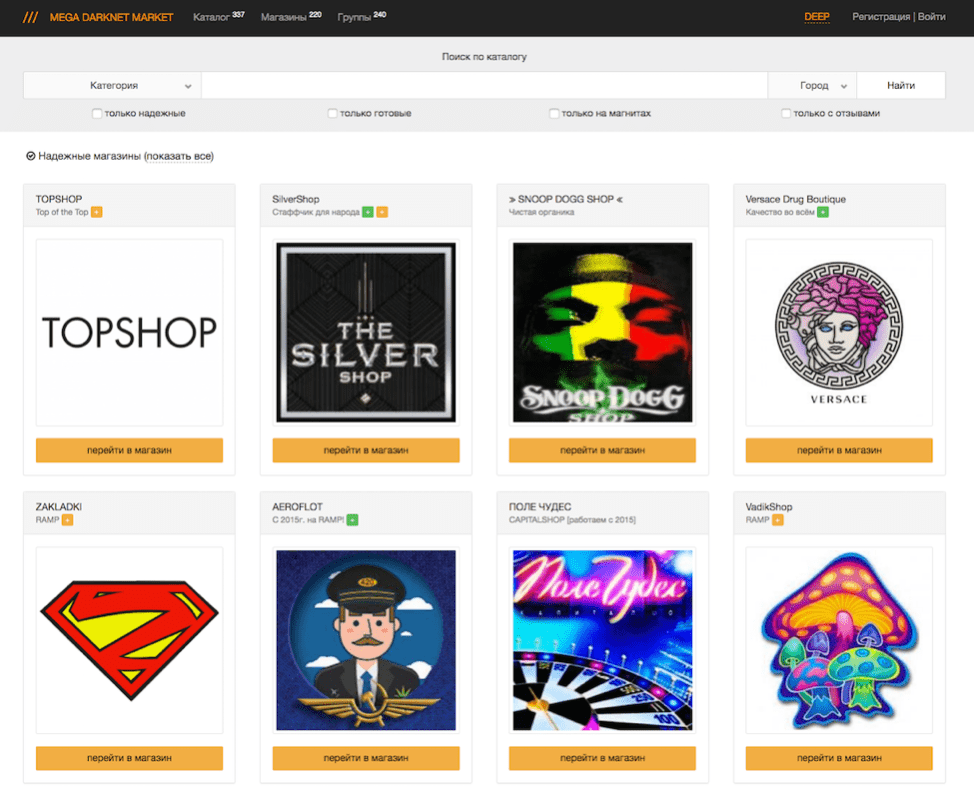 megaeeayahdmmeee.onion
This platform is especially strict with sellers, as it establishes multiple guidelines to which they will have to adhere to avoid sanctions.
The seller is fully responsible for the activities of his store and all its employees
The sale of one product under the appearance of another is not allowed
It is not allowed to sell treasures in the vicinity of educational institutions
The rules of this platform are written in Russian, so its interpretation could be complicated.
NEPTUNE MARKET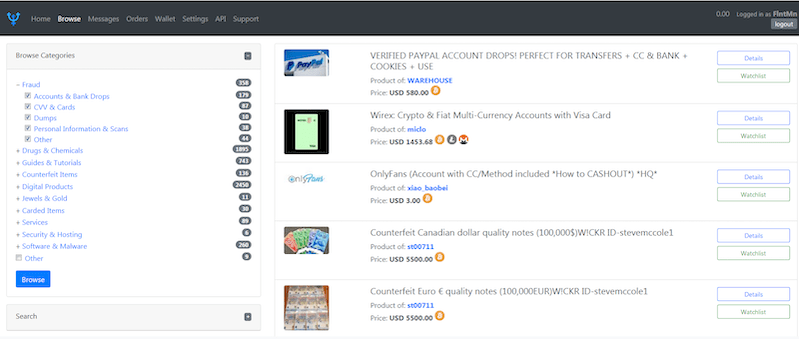 neptunes72him6enh2s2x3btm45fhwnqwvmndig44ctewvyjoqmd5eyd.onion
Unlike other sites, Neptune Market adheres to three fundamental rules:
No weapons, child pornography or hit murder services allowed
It is not allowed to publish private data
Be kind to each other and act with integrity
TOR2DOOR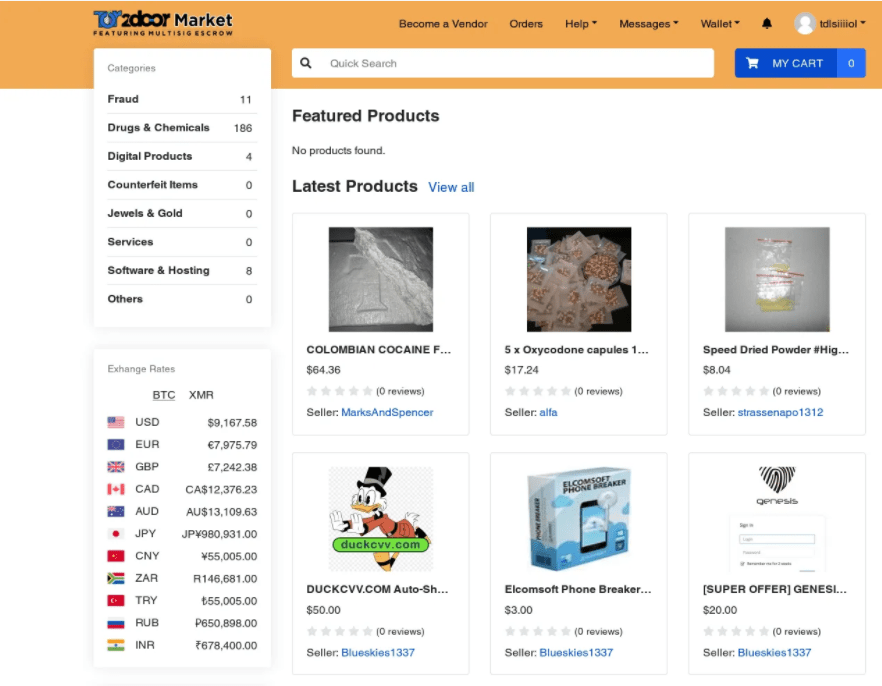 t2dycqek2earc2qu.onion
Tor2Door has a very simple list of prohibited items, including:
Child pornography
Prostitution
Weapons
Murder services
Fentanyl
As can be seen, market sites on dark web operate with similar rules. Authorities around the world frequently monitor these platforms, so many avoid dealing with transactions involving illegal activities.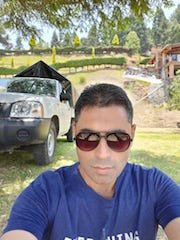 Cyber Security Specialist with 18+ years of industry experience . Worked on the projects with AT&T, Citrix, Google, Conexant, IPolicy Networks (Tech Mahindra) and HFCL. Constantly keeping world update on the happening in Cyber Security Area.