FortiGuard Labs discovered a one-of-a-kind botnet in November that was created in the Go programming language and was being spread via vulnerabilities in IoT devices. This botnet, which goes by the name Zerobot, is equipped with a number of modules, some of which allow it to replicate itself, launch attacks against various protocols, and propagate itself. Using the WebSocket protocol, it also connects with the server that handles its command and control functions.
The malware's objective is to infect other computers so that they may be added to a distributed denial-of-service (DDoS) botnet, which can then be used to perform devastating cyberattacks against certain targets. The malicious software also includes a "anti-kill" module, which is meant to prevent the process from being terminated or killed. At the moment, the primary emphasis of Zerobot is on performing distributed denial of service attacks. On the other hand, one might also utilize it as a means of initial access.
In addition to being able to do network scans and self-propagation to nearby devices, Zerobot is also capable of running commands on either Windows (CMD) or Linux (Bash). After Zerobot has established its presence on the hacked device, it will communicate some basic information about the victim to the command and control (C2) server by establishing a WebSocket connection to the server and sending the information.
The following computer architectures are targeted by this particular Zerobot variant: i386, amd64, arm, arm64, mips, mips64, mips64le, mipsle, ppc64, ppc64le, riscv64, and s390x. It is stored with the filename "zero," which is also where the name of the campaign originated from. In order to obtain access to the device, Zerobot contains exploits for 21 different vulnerabilities and makes use of them.
The following vulnerabilities are targeted by Zerobot when it attempts to penetrate its targets:
CVE-2022-22965: Spring MVC and Spring WebFlux (Spring4Shell)
CVE-2022-25075: TOTOLink A3000RU router
CVE-2022-26186: TOTOLink N600R router
CVE-2022-26210: TOTOLink A830R router
CVE-2022-30525: Zyxel USG Flex 100(W) firewall
CVE-2022-34538: MEGApix IP cameras
CVE-2022-37061: FLIX AX8 thermal sensor cameras
CVE-2020-25506: D-Link DNS-320 NAS
CVE-2021-35395: Realtek Jungle SDK
CVE-2021-36260: Hikvision product
CVE-2021-46422: Telesquare SDT-CW3B1 router
CVE-2022-01388: F5 BIG-I
CVE-2014-08361: miniigd SOAP service in Realtek SDK
CVE-2017-17106: Zivif PR115-204-P-RS webcams
CVE-2017-17215: Huawei HG523 router
CVE-2018-12613: phpMyAdmin
CVE-2020-10987: Tenda AC15 AC1900 router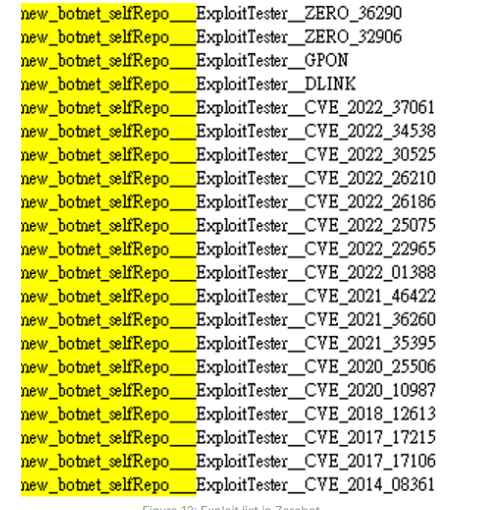 IOCs
C2:
176[.]65[.]137[.]5
Files:
7ae80111746efa1444c6e687ea5608f33ea0e95d75b3c5071e358c4cccc9a6fc
df76ab8411ccca9f44d91301dc2f364217e4a5e4004597a261cf964a0cd09722
cd9bd2a6b3678b61f10bb6415fb37ea6b9934b9ec8bb15c39c543fd32e9be7bb
50d6c5351c6476ea53e3c0d850de47059db3827b9c4a6ab4d083dfffcbde3579
7722abfb3c8d498eb473188c43db8abb812a3b87d786c9e8099774a320eaed39
2955dc2aec431e5db18ce8e20f2de565c6c1fb4779e73d38224437ac6a48a564
191ce97483781a2ea6325f5ffe092a0e975d612b4e1394ead683577f7857592f
447f9ed6698f46d55d4671a30cf42303e0bd63fe8d09d14c730c5627f173174d
e0766dcad977a0d8d0e6f3f58254b98098d6a97766ddac30b97d11c1c341f005
6c284131a2f94659b254ac646050bc9a8104a15c8d5482877d615d874279b822
5af002f187ec661f5d274149975ddc43c9f20edd6af8e42b6626636549d2b203
74f8a26eb324e65d1b71df9d0ed7b7587e99d85713c9d17c74318966f0bead0a
9c16171d65935817afd6ba7ec85cd0931b4a1c3bafb2d96a897735ab8e80fd45
b1d67f1cff723eda506a0a52102b261769da4eaf0551b10926c7c79a658061fd
f0bb312eacde86d533c922b87e47b8536e819d7569baaec82b9a407c68084280
2460434dabafe5a5dde0cce26b67f0230dbcd0d0ab5fabad1a1dbc289dc6432f
2af33e1ff76a30eb83de18758380f113658d298690a436d817bd7e20df52df91
4483c4f07e651ce8218216dd5c655622ff323bf3cdfe405ffeb69eafa75efad5
7c085185f6754aef7824c201d8443300ff2b104521d82f9a8b8feb5d4c8d3191
6ac49092ee1bdd55ddbf57df829f20aac750597d85b5904bb7bafa5b51fbb44d
f9fc370955490bdf38fc63ca0540ce1ea6f7eca5123aa4eef730cb618da8551f
6dd71163b6ab81a35ce373875a688ad9b31e0d1c292f02e8b2bafa7b3d1e3731
d88e9248ff4c983aa9ae2e77cf79cb4efc833c947ec2d274983e45c41bbe47e1
96bbb269fd080fedd01679ea82156005a16724b3cde1eb650a804fa31f18524e
439b2e500e82c96d30e1ef8a7918e1f864e6d706d944aeddffe61b8bf81ef6d3
af48b072d0070fa09bca0868848b62df5228c34ef24d233d8eb75a1fde8ac23f
5824fc51fcfba1a6315fd21422559d63c56f0e2192937085d65f9a0ac770eb3a
c9ea4cda12c14c895e23988229831b8f04ccab315c1cbc76a9efae888be55a3b
e2c2a0cccefc4314c110f3c0b887e5008073e607c61e1adde5000efb8e630d50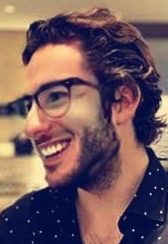 Information security specialist, currently working as risk infrastructure specialist & investigator.
15 years of experience in risk and control process, security audit support, business continuity design and support, workgroup management and information security standards.